Apply to perform at Tap City this July!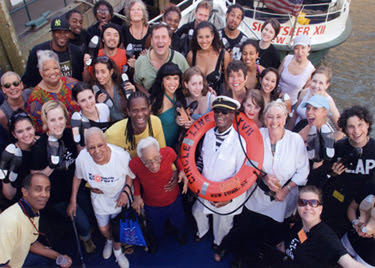 Tap City, a New York City tap dance festival, is right around the corner! The 2017 festival will take place July 8-15 with classes for ages 9 - adult. Registration has begun and applications are now open to those wishing to perform on the Copasetic Boat Ride and in the Tap Future Showcase.
The Copasetic Boat Ride is a special event scheduled for the evening of Tuesday, July 12 that includes live music, entertainment and dancing onboard a boat that will be sailing the Hudson River. In addition to soaking in the city's skyline and partying with Tap City staff, faculty and fellow students, select participants will be chosen to perform. Tap dance solos, duos, trios and ensembles will be selected from video submissions.
The Tap Future Showcase, on the other hand, is an event on land, set for The Peter Jay Sharp Theatre at Symphony Space on Saturday evening, July 15. It's a fun, informal show of youth and adult tap students. Dancers will perform the newly minted work from all of the Tap City Youth, Pre-Professional and Adult Residencies. A few solos, duos, trios and groups will also be selected from video submissions.
Apply for these opportunities with the Tap Future Showcase and the Copasetic Boat Ride at www.atdf.org/TC16VideoAudition.html. The 2017 video application deadline is June 19. Call 646-230-9564 or visit www.atdf.org for more information.
Photo courtesy of the American Tap Dance Foundation.
---