Bessies announce 2017 Lifetime Achievement & Outstanding Service awards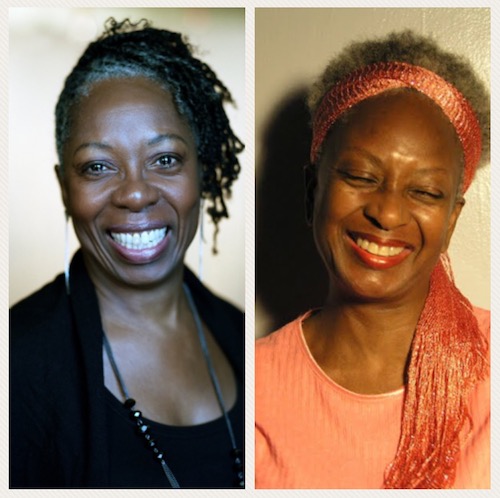 The NY Dance and Performance Awards, The Bessies, New York City's premier dance awards honoring outstanding creative work in the field, recently announced that Jawole Willa Jo Zollar, choreographer and founding artistic director of Urban Bush Women, will receive the 2017 NY Dance and Performance Award for Lifetime Achievement in Dance, and writer Eva Yaa Asantewaa will receive this year's award for Outstanding Service to the Field of Dance. The two awards will be presented at the 33rd Annual Bessie Awards Ceremony on Monday, October 9 at NYU's Skirball Center for the Performing Arts.
"I am thrilled that the Bessies Selection Committee has chosen to honor these two outstanding women," says Lucy Sexton, executive director of The Bessies. "Jawole Willa Jo Zollar has created groundbreaking dance with her company Urban Bush Women for more than three decades. In addition, her revolutionary insight into curating and her dedication to nurturing dance artists, particularly women choreographers of color, continues to transform and expand the dance landscape. Eva Yaa Asantewaa's illuminating writing and her multifaceted and engaged support for the wide range of dance artists in the city are truly a service to our field, and we are so excited to be celebrating her."
Jawole Willa Jo Zollar was born and raised in Kansas City, MO. She trained with Joseph Stevenson, a student of the legendary Katherine Dunham. She received a B.A. in dance from the University of Missouri at Kansas City, and an M.F.A. in dance from Florida State University. In 1980 Zollar moved to New York City to study with Dianne McIntyre at Sounds in Motion. In 1984 she founded Urban Bush Women (UBW) as a performance ensemble dedicated to exploring the use of cultural expression as a catalyst for social change.
In addition to 34 works for UBW, Zollar has created works for Alvin Ailey American Dance Theater, Philadanco and others, and with collaborators including Compagnie Jant-Bi from Senegal and Nora Chipaumire. In 2006, Zollar received a NY Dance and Performance Award for her work as choreographer/creator of Walking With Pearl...Southern Diaries. Featured in the PBS documentary Free to Dance, Zollar was designated a Master of African-American Choreography by the John F. Kennedy Center for the Performing Arts in 2005. Her company has toured five continents and has performed at venues including BAM, Lincoln Center for the Performing Arts, and the Kennedy Center for the Performing Arts. UBW was selected as one of three U.S. dance companies to inaugurate a cultural diplomacy program for the U.S. Department of State in 2010. She serves as founding artistic director of UBW, director of UBW's Summer Leadership Institute, and currently holds the position of the Nancy Smith Fichter Professor of Dance and Robert O. Lawton Distinguished Professor at Florida State University.
Furthermore, Zollar received a 2008 United States Artists Wynn fellowship and a 2009 fellowship from the John Simon Guggenheim Memorial Foundation. Still dancing, she recently toured in a sold-out national tour presented by 651 Arts as a leading influential dancer/choreographer on a program that included her early mentor Dianne McIntyre, her collaborator Germaine Acogny, Carmen de Lavallade and Bebe Miller. Zollar has received the Doris Duke Performing Artist Award as well as honorary degrees from Tufts University and Rutgers University. Zollar is the recipient of the 2016 Dance/USA Honor Award.
On the other hand, this year's recipient of the Outstanding Service to the Field of Dance Award, Eva Yaa Asantewaa, is best known for her work as a dance writer. She was first published as a dance writer in 1976 and her work has appeared in various print and online venues. In 2007, she founded her arts blog InfiniteBody at http://infinitebody.blogspot.com. She created and hosted the Body and Soul dance podcast and the Serious Moonlight dance podcast, coproduced with Tei Blow, both available on iTunes.
Yaa Asantewaa was a member of the inaugural faculty of Montclair State University's MFA in Dance program from 2016–2017 and the inaugural faculty of the Maggie Allesee National Center for Choreography's Moving Forward Dialogues dance lab for emerging artists in 2017. She joined the curatorial team for Danspace Project's 2016 platform Lost and Found and created the skeleton architecture, or the future of our worlds, featuring 21 black women and gender-nonconforming performers for an evening of group improvisation.
The 33rd Annual Bessie Awards, hosted by Shernita Anderson and James Whiteside, will be held on Monday, October 9 at 7:30 p.m. at NYU's Skirball Center for the Performing Arts. Tickets start at $12 and can be purchased online at NYU. NYU Skirball Center for the Performing Arts is located at 566 LaGuardia Place, New York, NY 10012.
Visit www.bessies.org for more information.
Image: Jawole Willa Jo Zollar (left) photographed by Crush Boone; Eva Yaa Asantewaa (right) photographed by D. Feller.
---