Dallas Black Dance Theatre holds Auditions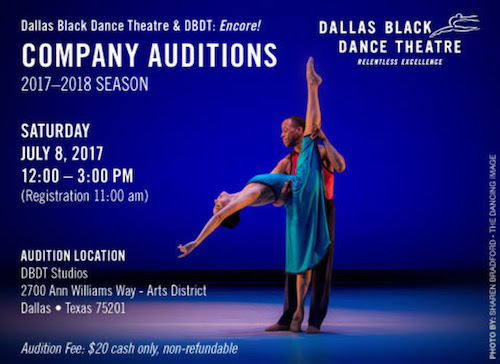 Founded in 1976, Dallas Black Dance Theatre (DBDT) will be celebrating its 41st Anniversary in its 2017-18 Season. The diverse, multi-ethnic troupe will be holding company auditions this Saturday, July 8 at its DBDT Studios, located on the eastern end of the thriving downtown Dallas Arts District.
DBDT and its second company DBDT: Encore! (formerly Dallas Black Dance Theatre II) seek dancers with a strong background in modern, ballet and jazz techniques for its professional companies.
The main company offers an 11-month salaried contract including paid vacation. Season highlights include three home seasons at the AT&T Performing Arts Center, plus national and international touring.
DBDT serves the region as the only predominately minority professional dance company in the five-state area of Texas, Oklahoma, Louisiana, Arkansas and New Mexico. In its history, it has been designated an "American Masterpiece Touring Artist" by the National Endowment for the Arts. The troupe has performed across the globe in 31 states, 14 countries and five continents. Notable performance venues include Lincoln Center in New York City, The Kennedy Center in Washington D.C., the 1996 Olympic Games in Atlanta, and the 2012 London Olympics.
In total, the professional company, DBDT, consists of 12 full-time salaried dancers while DBDT: Encore! consists of eight semi-professional artists.
To apply, send your resume, head and body shot to DBDT Artistic Director Bridget L. Moore at b.moore@dbdt.com, DBDT Associate Artistic Director Melissa M. Young at m.young@dbdt.com and Nycole Ray with DBDT: Encore! at n.ray@dbdt.com.
Visit www.dbdt.com to learn more about Dallas Black Dance Theatre.
Photo by Sharen Bradford – The Dancing Image. Photo courtesy of DBDT.
---