Fini Dance presents 2017 Gala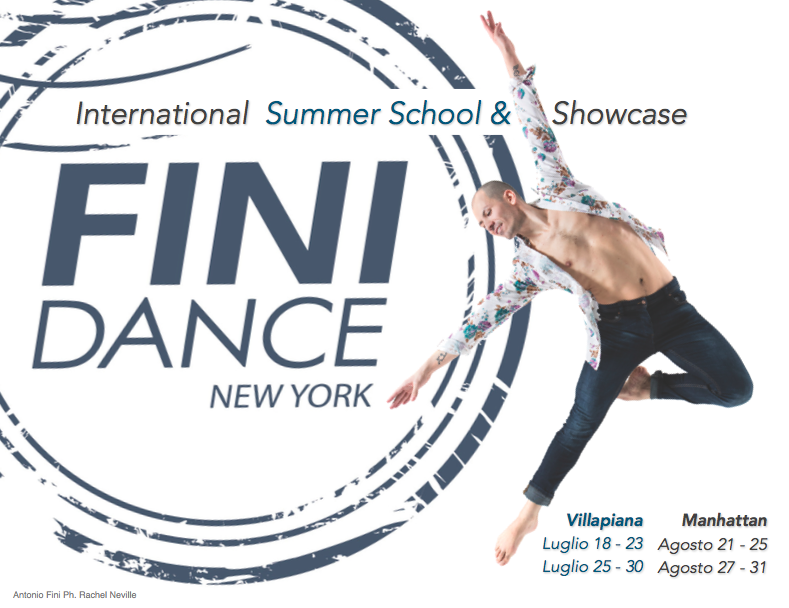 In February, dancer and producer Antonio Fini, a native of Calabria, Italy, held a showcase for dancers and choreographers at the Fortezza Da Basso in Florence as part of the major European dance fair Danzainfiera. The talents he selected there were invited to be part of the Fini Dance Summer Intensive in Italy in July or the New York edition of the summer intensive, which will run August 21-31.
The New York event will now culminate in a performance on Thursday, August 31 at the Ailey Citigroup Theater. The evening will also include the presentation of awards to artists from Italy or of Italian descent.
Terese Capucilli, acclaimed former principal dancer with the Martha Graham Dance Company and artistic director laureate of the troupe, will receive a Lifetime Achievement Award. Marie Lorene Fichaux, formerly with the Teatro alla Scala Ballet Company, London's Royal Ballet, the Boston Ballet, and more, will receive the Extraordinary Dancer Award. Plus, dancers Alessio Crognate and Antonio Cangiano, both natives of Italy, will be awarded the Rising Stars Award.
The charming Tabata Caldironi, known as a popular dancer and TV hostess in Milan, will return to New York to host the evening showcase. Performers will include members of the Rome International Dance Academy, JH Dance Company from Bologna, Antonella Perazzo's Movin Beat Company from Rome, Staten Island Ballet, Fini Dance New York, Antonio Cangiano and Alessio Crognale in Michael Mao's Weaving, Marie Lorene Fichaux and Cristian L. Koenig in a duet choreographed for her by Nacho Duato, and more.
Fini will even perform his solo The Prophet, winner of the Stefano Valentini Award.
The 2017 Awardees will join past honorees like Luigi, Alessandra Ferri, Edward Villella, Elena Albano, Petra Conti of Boston Ballet, Lorenzo Pagano of Martha Graham Dance Company, and Jacqulyn Buglisi.
For more information, visit http://finidance.nyc. Book Gala tickets, priced at $30, at www.eventbrite.com.
Image courtesy of Fini Dance.
---