Jane Franklin Dance presents 'Bits & Pieces'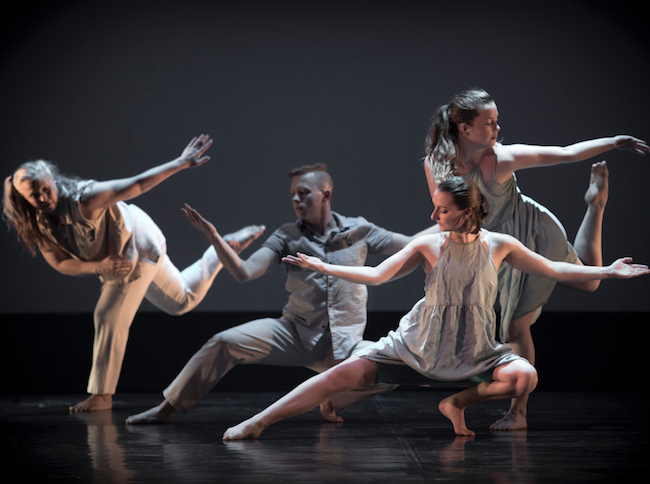 Jane Franklin Dance, a movement-based company and organization in Arlington, VA, will present Bits & Pieces, a fall collection of different programs, across three weekends in October and November.
Highlights include excerpts from Complete Dogness, a premiere for children about a dog who can steal a slipper, a delicious wool sock and a whole block of cheese in no time; Auto-Audio, a site-specific work down S. Oakland Street (cars provide the sound – just roll down your window); new works by Forty+; excerpts from Aflight, a newer creation about the real, personal journeys of the people and ecosystems in our midst; a new piece by Generational Partners, a collection of adult/child couples; and the premiere of Border.
Performances will be presented at Theatre on the Run (located at 3700 S. Four Mile Run Drive in Arlington) on October 27, November 3-4 and November 11 at 7:30 p.m. Audience members can enjoy a free post-performance pint at New District Brewing Company on October 27 and November 11. They can also receive a discount at Shirlington restaurant, Palette 22 on November 4.
In addition, a Family Fun Day is scheduled for October 28. Performances are at 11 a.m. and 3:05 p.m. The day has been expanded to include a morning session, beginning at 9:30 a.m., and an afternoon session, beginning at 3 p.m. Each session gets down to good fun for the whole family. Kids can experiment with movement that explores the onstage content of The Big Meow or Complete Dogness in a fun and interactive way.
For more information on Jane Franklin Dance's Bits & Pieces and Family Fun Day, visit www.janefranklin.com.
Photo: Jane Franklin Dance in Aflight. Photo by Andrew Bossi.
---