New Dialect springs into warmer weather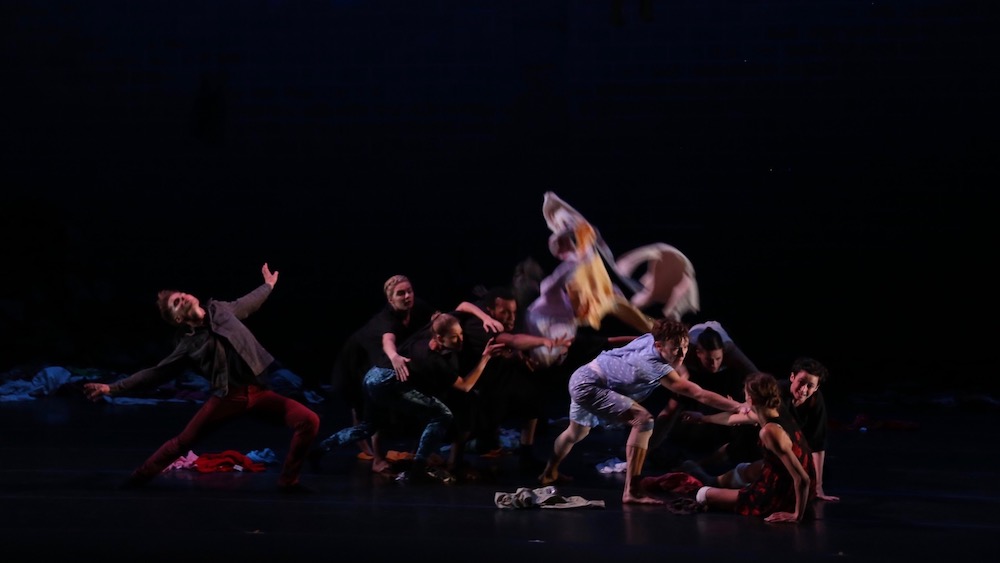 New Dialect, a contemporary dance collective of 12 artists based in Nashville, is reviving its work H E A P, which premiered in November at Tennessee Performing Arts Center, for a special pop-up installation in the iconic War Memorial Courtyard at lunchtime on Thursday, April 27.
In marketing statements, New Dialect explains the work as a piece that investigates "the characteristics that define us, particularly our experiences with privilege and discrimination." As a diverse group of people, each dancer contributes a unique perspective to the creative process. As New Dialect wrote, "We are black, white, Latino, Moroccan, Filipino, Jewish, gay, straight, men, women, Christians, atheists, agnostics, yogis, Buddhists and believers in science. And, we have each experienced the benefits of privilege and the pain of discrimination due to the color of our skin, our gender, our sexual orientation, our culture and our beliefs."
H E A P will fill the atrium at War Memorial in a unique performance. The company wrote, "We believe the Atrium's civic significance make it a prime setting for a professional pop-up performance that aims to contribute to the bright future of our democracy through the creative act of dance."
New Dialect Artistic Director Banning Bouldin said, "H E A P is about bringing people together who believe differently, look differently, speak differently, and experience life differently to celebrate our diversity and grow in deep appreciation and respect for one another. "
Free to the public, this H E A P installation will last approximately 30 minutes and will consist of solos, pairs and full ensemble work. New Dialect will announce other pop-ups soon.
In addition, New Dialect is currently preparing for its residency in the Rocky Mountains at Perry-Mansfield from June 4-19. While there, Bouldin will lead rehearsals and choreograph for the College Dance Intensive, as well as lead a special workshop for the Pre-Professional Intensive students. Meanwhile, New Dialect will conduct company creative rehearsals and perform for the camp participants.
Back at its home campus from June 26 - July 7, New Dialect will offer its 2017 Summer Intensive, which is open to advanced/professional dancers aged 17 and older. Students will take classes in a variety of contemporary dance approaches, investigate their own movement language, and engage in the creative process with Bouldin and members of the collective.
For more information on New Dialect, visit www.newdialect.org. The collective's 2017-18 Season will be announced in June.
Photo: New Dialect's stage production of H E A P. Photo courtesy of New Dialect.
---