NYC dancers perform to aid hurricane victims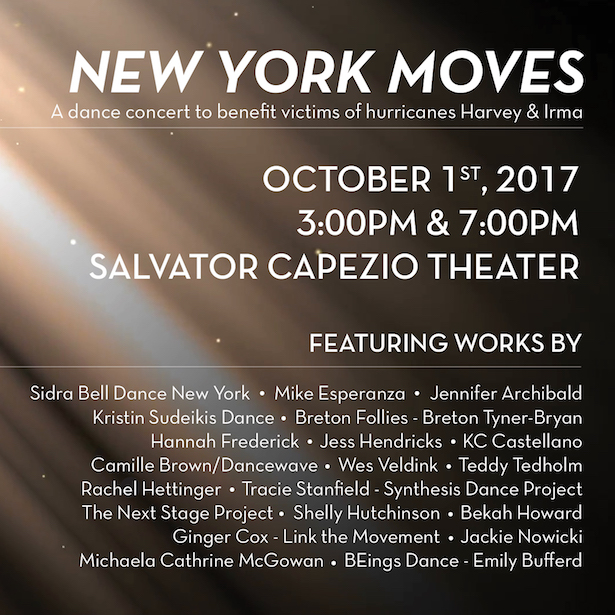 More than 20 New York City dancers and choreographers are coming together this Sunday, October 1 to raise funds for the victims of recent natural disasters. Produced by Shelly Hutchinson, the New York Moves Benefit Concerts will be in the Salvatore Capezio Theater at Peridance.
Presented thanks to the compassion, creativity and abundance of these NYC dancers, all of the benefit concerts' proceeds will go to various charities helping families and communities in need from the devastation caused by Hurricane Harvey and Irma.
The first performance, Program A, will be at 3 p.m. and it will feature Wes Veldink, Kristin Sudeikis Dance, Camille Brown/Dancewave, The Next Stage Project, Breton Follies/Breton Tyner-Bryan, Hutchinson Collaborative, KC Castellano, tedted Performance Group, Mike Esperanza, Jessica Hendricks, Jennifer Archibald, BEings/Emily Bufferd, Bekah Howard, Michaela McGowan, Link The Movement/Ginger Cox and Synthesis Dance Project/Tracie Stanfield.
The second performance, Program B, will be at 7 p.m. and it's line-up will be very similar to Program A – just with the addition of Sidra Bell Dance New York, Now Dance Project/Jackie Nowicki, Hannah Frederick and Rachel Hettinger, and the minus of Bekah Howard, Michaela McGowan, Link The Movement/Ginger Cox and Camille Brown/Dancewave.
Watch the promo video here and then get your tickets at www.brownpapertickets.com/event/3090590.
---