PNB explores virtual reality in new video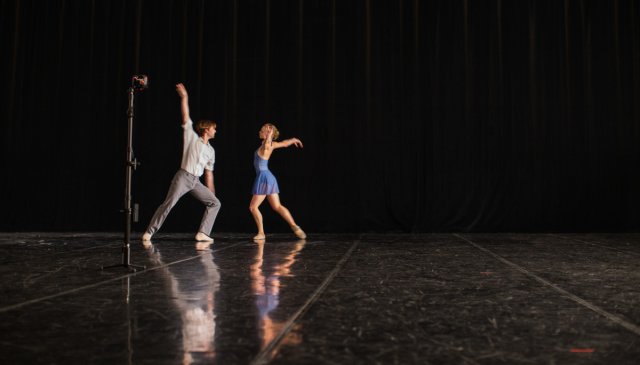 Pixvana partnered with the Pacific Northwest Ballet (PNB) to explore the unprecedented possibilities for dance and performance within virtual reality (VR), resulting in the three-minute VR film Silent Resonance. Directed by Pixvana's Creative Director and CTO Scott Squires, the film's eponymous ballet was choreographed by PNB dancer Price Suddarth and features PNB dancers Emma Love Suddarth and Miles Pertl. Silent Resonance debuted at PNB's fundraising event "Pointe to the Stars" on March 9; it is available now on YouTube 360 and Facebook 360.
PNB's first VR experience, Silent Resonance is the result of Artistic Director Peter Boal's effort to leverage technology to reach new audiences. Squires and the Pixvana team approached the project as an exploration of movement in dance, as well as an opportunity to test the software tools that Pixvana is developing for VR content creators.
Shooting in a PNB studio, the Pixvana team worked with Suddarth to optimize the choreography for VR – keeping the dancers in specific zones to avoid disrupting stitch lines, and keeping the dancers an optimal distance from the camera. Reimagining Eadweard Muybridge's motion studies from the late 1800s, Squires then utilized a special echo effect that visualizes Suddarth's choreography. The raw, lyrical pas de deux slowly intensifies with three mirrored versions of the dancers throughout the 360 view.
Silent Resonance was finished with Pixvana's SPIN Publish platform, which enables ultra-high quality VR video encoding and delivery. The final result is a meditative, ethereal experience.
"I've been interested in doing a ballet project for VR for a while now and PNB was an ideal partner – they were so excited about the technology and its potential to bring a fresh perspective to the arts," said Squires. "It's a great way to achieve a more intimate experience with your audience, reach new people outside of the Seattle area, and create visuals that would be impossible to match on a traditional stage."
Suddarth explained, "I took inspiration for this work from the virtual reality concept itself. In VR, the intention is to immerse the viewer entirely into a different world. With that idea in mind, I sought out to create a short work that provided the viewer a glimpse into the mind of a dancer. In the piece you see the struggle, the conflict, the joy, and the complex beauty that is the heart and soul of a dancer."
"We are excited about the doors this collaboration opens," said PNB's Boal. "We're seeing one art form enhance another and the sum total is inspiring. Innovative choreography and exquisite dancers are seen in a new light, through a new lens, and by new audiences."
Photo courtesy of Pixvana and Pacific Northwest Ballet.
---