Texas Ballet Theater delivers mixed rep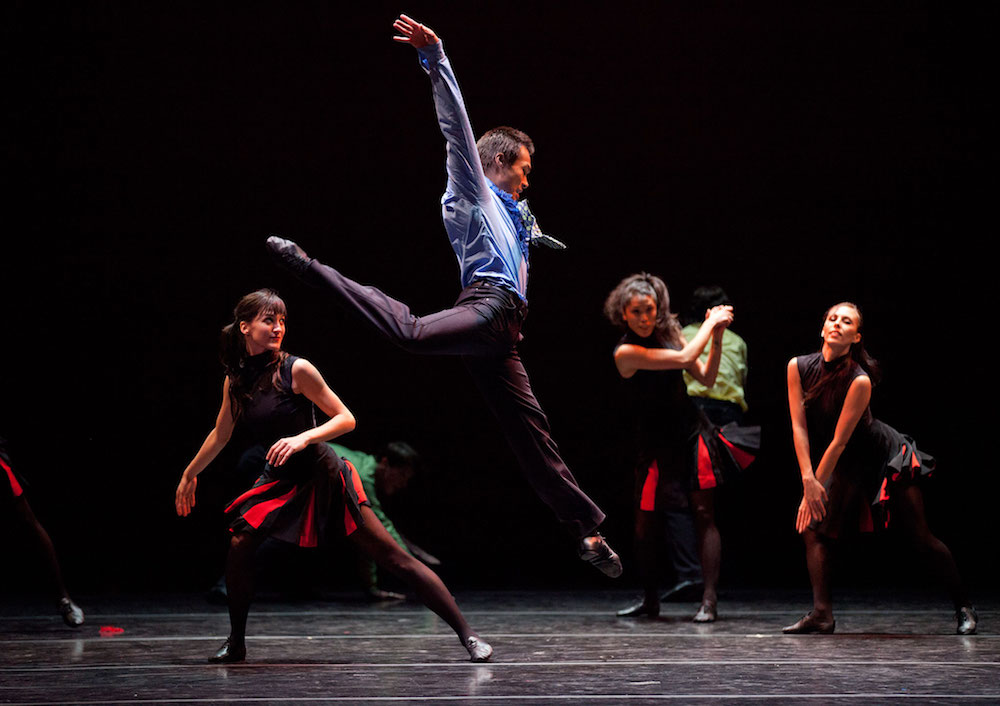 Texas Ballet Theater (TBT) will perform Rooster & Smith & Scher, a trio of ballets, at Bass Performance Hall on March 3-5. This mixed repertoire features Rooster, a rock 'n' roll ballet set to the music of The Rolling Stones; A Full Life, a world premiere by choreographer Avi Scher; and Imbue, a world premiere by choreographer Garrett Smith.
"It's as if you're watching three different companies perform," said TBT's Artistic Director Ben Stevenson, O.B.E. "Each piece has its own unique style and the dancers must adapt their bodies to three kinds of dance; it's quite difficult."
Rooster, a Company Premiere
Rooster is set to the iconic music of The Rolling Stones, with choreography by Christopher Bruce. There are no tutus in sight for this rock 'n' roll ballet, but patrons will experience high-energy contemporary movement set to the tune of "Little Red Rooster," "Paint It Black" and more.
Imbue, a World Premiere
Smith's Imbue features music by Philip Glass. When asked about the piece, Smith said, "We as people, or even objects, change over time into something beautiful by what surrounds and influences us through a process or stages of our personal path. For me, the men represent new environments, and people in our life that help influence us to becoming our best self, and reaching our divine potential. The men also represent experience, wisdom and knowledge. The plastic costumes the women wear are like a clean glass slate with no life experiences yet. The women are the central figure of focus. The viewer can witness growth, change, stages and layers of development in an abstract, or emotionally humanistic, way that I believe we all can relate to in the stages and growth of our own lives."
An award-winning dancer and choreographer, Smith was born in Salt Lake City, Utah and began his ballet training at age 13 with Utah Regional Ballet. In 2003, he was awarded the National Junior Outstanding Dancer Award at the New York City Dance Alliance with a solo he created himself. He first choreographed in Houston and created five works for Houston Ballet's second company, which are taken on tour internationally. As an apprentice with Houston Ballet, Smith created his first piece, Vivacious Dispositions, and continued to create original works for the company. He currently dances with Norwegian National Ballet and still choreographs.
A Full Life, a World Premiere
This ballet is about the journey of maturation. Four men and four women experience their innocence tempered by sensuality and heartbreak, love and loss, yet regain their footing. The movement style morphs along with the journey of the dancers, as does the music, which is by five different composers – J.S. Bach, Mikhail Glinka, Missy Mazzoli, Felix Mendelssohn and Franz Liszt.
Scher was born in NYC and raised in Israel. He performed with 11 companies and choreographed across the U.S., and formed his own company in NYC, Avi Scher & Dancers. In 2012, he changed careers, focusing on international non-profit work, but was lured back to choreography by Ben Stevenson to create this piece.
Tickets for TBT's Rooster & Smith & Scher are available now and can be purchased by calling 877-828-9200 (option 1) or online at www.TexasBalletTheater.org.
Photo: Dancers perform Rooster by Christopher Bruce. Photo by Steven Visneau.
---