USC Kaufman School looks forward to Fall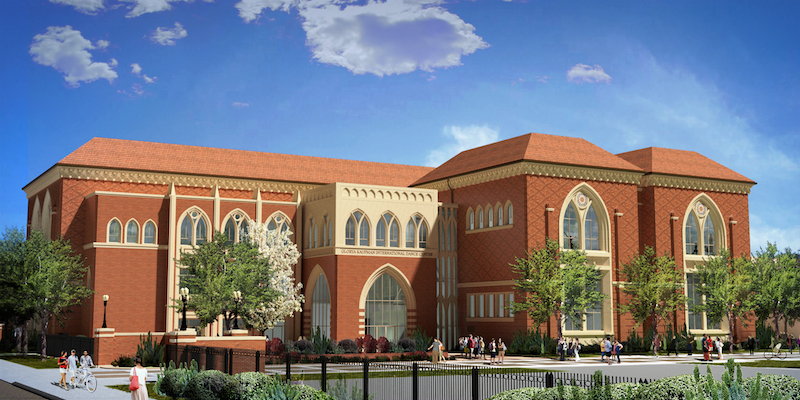 The University of Southern California's highly anticipated and talked about new Glorya Kaufman International Dance Center is set to open this fall. According to recent updates, the building's construction is on schedule and will be completed early this summer, with USC classes beginning there in September. The official grand opening ribbon-cutting ceremony is set for October 5.
Technically, BFA classes for the USC Glorya Kaufman School of Dance have already started though. This 2015-16 academic year is the program's inaugural season. Soon, however, students will also enjoy brand new state-of-the-art facilities just for them.
The Glorya Kaufman International Dance Center is generating lots of buzz for good reason – the 70-foot-tall building will house a studio performance space, five medium and small dance studios, a training and fitness zone, dressing rooms, classrooms and offices for faculty and administrators. There will even be a large collaborative space for dance majors to use on the third floor.
Located across from the new USC Village on campus, it's in a desirable location too. The center will stand at the gateway of the busiest pedestrian crossing on campus — on Watt Way between Jefferson Boulevard and West 34th Street. The USC Village project is transforming the current University Village into a vibrant mix of restaurants and shops with a full-service supermarket, as well as outdoor areas for a farmer's market, concerts and other special events, while also providing additional student housing and academic space.
To learn more about the one-of-a-kind building and why it's bound to be our new favorite fortress of dance, check out this comprehensive overview in this online booklet: issuu.com/usckaufman
For further information on the USC Glorya Kaufman School of Dance, visit http://kaufman.usc.edu.
Image: A rendering of what the Glorya Kaufman International Dance Center will look like when construction is complete. Photo courtesy of USC.
---