Victoria Ballet Theater presents Fall Gala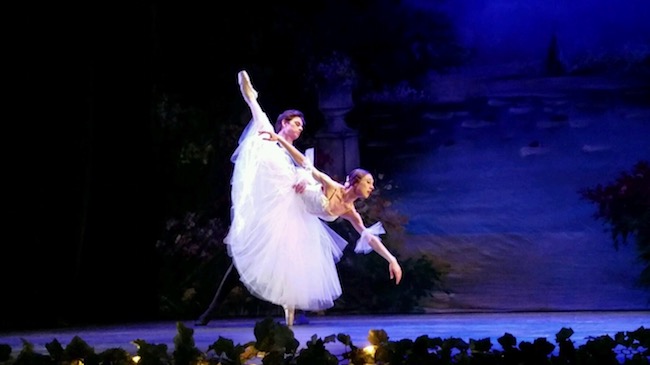 New Jersey's Victoria Ballet Theater will present its 2017 Fall Gala on Sunday, October 29 at The Alvin Ailey Citigroup Theater in New York City. The special event will welcome an international roster of freelance dancers from Russia, Brazil, Cuba, Korea, China, Japan, Argentina and Italy to perform alongside advanced students from the VBT School.
Two returning guest dancers are Pennsylvania Ballet's Sterling Baca and Nayara Lopes. VBT's roster will also include guest dancer Chanmee Jeong from Roxey Ballet Company, Elizabeth Flores from New American Youth Ballet and VBT Principal Natalia Sheptalova. The Gala program will include the full-length Paquita, Pas de Quatre, Dying Swan, the Pas de Deux from Le Corsaire and variations from Don Quixote and The Sleeping Beauty.
VBT Founder and Director Victoria Lebedeva is organizing this performance gala. She graduated from the famous Vaganova Ballet Academy and danced with the Mariinsky Ballet (then Kirov Ballet) for 15 years. There she performed in the corps de ballet and did character solo and principal parts in ballets and operas such as Le Corsaire, Don Quixote, Spartacus, Swan Lake, Fountain of Bakhchisaray, Carmen, Napoli, The Nutcracker, Coppelia and Giselle.
In 2000, Lebedeva opened Victoria Ballet Theater, her own ballet school in Fort Lee. Three years later, it became a non-profit organisation and she began to stage ballet programs.
Lebedeva states, "The mission of the company is to preserve and save the pure classical choreography which was created in the 19th and 20th centuries by the great choreographers: Petipa, Ivanov, Gorsky, Vainonnen, Sergeyev, etc."
Her professional-level Classical Ballet Gala series began back in 2003 and she has attracted guest dancers such as Sascha Radetsky, Xiomara Reyes, Gennadi Saveliev, Veronika Part, Christine Shevchenko and Arian Molina Soca.
For more information on VBT and its 2017 Fall Gala, or to book gala tickets, visit victoriaballettheater.org.
Photo courtesy of Victoria Ballet Theater.
---