Want to offer barre fitness classes?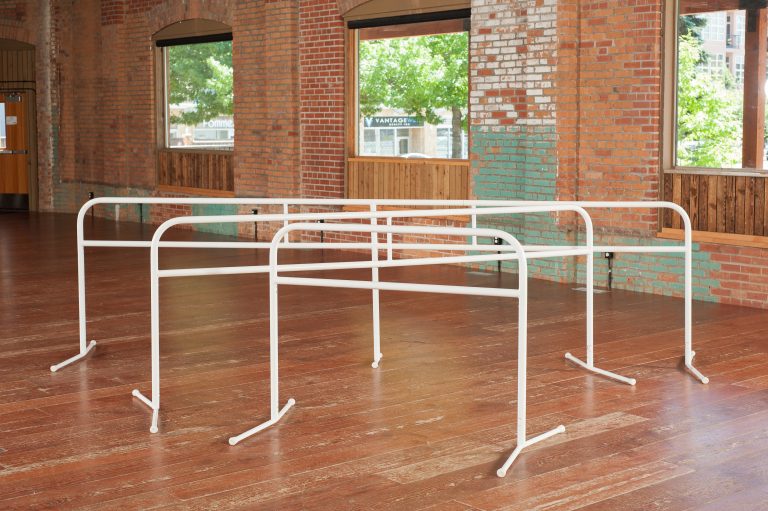 Has your dance studio thought about expanding and offering ballet-inspired barre fitness classes? It's one of the hottest trends of the last five years in the fitness industry and more dance studios are catching on.
One business that is here to help studio owners get started is En Pointe Enterprises. En Pointe has been providing ballet barres to studios for many years, and now, due to barre fitness class trends, the company has begun manufacturing fitness barres specifically designed for barre classes.
"Our floor-mounted fitness barres and closed brackets have been very popular," said En Pointe representative Anne-Marie Freeman. "As they are floor-mounted, they can easily be placed in front of mirrors. The best height is usually 36" – perfect for barre classes. They are very stable and solid if you are using bands as part of your class and for any strength and tone moves."
En Pointe's barres and brackets are custom-made to the length customers require and are available in gray, black or white aluminum. Customers can also choose to have a wooden barre with the floor-mount brackets in the color of their choice.
The number of brackets depends on the length of the barre – "usually we recommend placing the floor-mount brackets every four feet for maximum stability," Freeman said.
En Pointe also helps studios with their mirror needs. Specifically, if they're looking for a "great safe and shatterproof alternative to glass" the company offers glassless mirrors. Known to be highly reflective, they're also lightweight, meaning they can be moved in and out of a room easily.
For further information, visit www.en-pointe.com or call 1.866.491.4019. En Pointe also manufactures the traditional wall-mount barres, StudioBarres and PortaBarres. Plus, they are a flooring distributor for Stagestep.
---