Nexstar National Talent Competition BACK
Nexstar is entering its sixteenth touring season in 2017 as one of the Largest and Most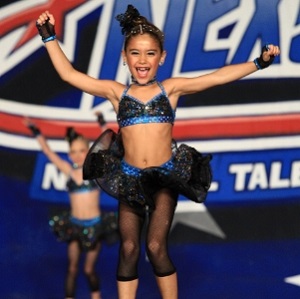 Successful competitions in the world!
Nexstar has mastered the feeling of a very well run, exciting competition that exudes a laid back, positive feeling for the competitors and parents.
The backstage managers are the best in the business and keep the competitors energized with a positive & fun atmosphere. Nexstar awards trophies, plaques, pins and cash prizes.
Dates and Venues
Manahawkin, NJ Feb 3-5
Aurora, IL Feb 10-12
Houston, TX Feb 10-12
Louisville, KY Feb 10-12
Dayton, OH Feb 17-19
Jacksonville, FL Feb 17-19
Lowell, MA Feb 17-19
Kansas City, MO Feb 24-26
Wilmington, NC Feb 24-26
Ft. Lauderdale, FL Mar 3-5
Lakeland, FL Mar 3-5
Mason, OH Mar 3-5
Davenport, IA Mar 10-12
Fresno, CA Mar 10-12
Greensboro, NC Mar 10-12
Lansing, MI Mar 10-12
Murfreesboro, TN Mar 10-12
San Antonio, TX Mar 10-12
Hackensack, NJ Mar 17-19
Omaha, NE Mar 17-19
Sewell, NJ Mar 17-19
St. Paul, MN Mar 17-19
Upland, CA Mar 17-19
Wichita, KS Mar 17-19
Arlington, TX Mar 24-26
Baltimore, MD Mar 24-26
Chattanooga, TN Mar 24-26
Ft. Wayne, IN Mar 24-26
San Jose, CA Mar 24-26
Texarkana, TN Mar 24-26
Upper Marlboro, MD Mar 24-26
Chicago, IL Mar 31-Apr 2
Orlando, FL Mar 31-Apr2
Long Island, NY Mar 31-Apr 2
Spartanburg, SC Mar 31-Apr 2
Spokane, WA Mar 31-Apr 2
Baton Rouge, LA Apr 7-9
Cleveland, OH Apr 7-9
Des Moines, IA Apr 7-9
Joplin, MO Apr 7-9
Syracuse, NY Apr 7-9
Wilmington, DE Apr 7-9
Zanesville, OH Apr 7-9
Columbus, OH Apr 21-23
Denver, CO Apr 21-23
Detroit, MI Apr 21-23
New Haven, CT Apr 21-23
Providence, RI Apr 21-23
Woodbridge, VA Apr 21-23
Amarillo, TX Apr 28-30
Colorado Springs, CO Apr 28-30
Milwaukee, WI Apr 28-30
Sparta, NJ Apr 28-30
West Memphis, AR Apr 28-30
Atlanta, GA May 5-7
Indianapolis, AR May 5-7
Little Rock, AR May 5-7
Akron, OH May 12-14
Dayton, OH May 12-14
Lancaster, PA May 12-14
Rochester, NY May 12-14
St. Louis, MO May 12-14
Tulsa, OK May 12-14
Frankenmuth, MI May 26-28
Contact
Nexstar National Talent Competition
Phone 937.376.7777
1455 S Patton Street
Xenia, OH 45385