10th BC Beat arrives next week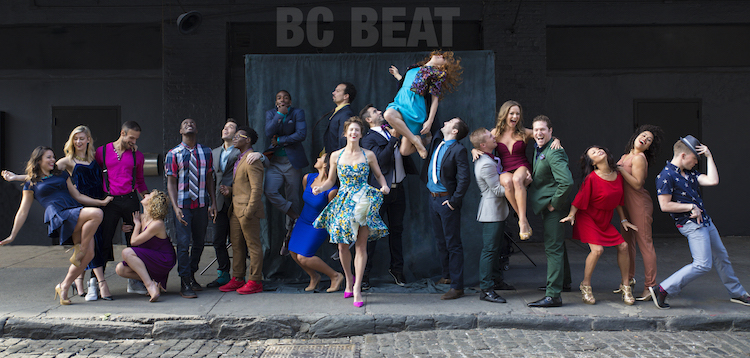 Choreographers have been announced for the 10th BC BEAT on Monday, November 9, and the lineup includes a powerful mix of Broadway veterans and emerging creatives. It demonstrates an inspired and shared passion to experiment, connect and create new work.
In celebration of the 10th BC BEAT, the program grows from eight to 10 choreographers. It will present work by Tony and Drama Desk Award-winning choreographer Andy Blankenbuehler (who recently directed/choreographed Bandstand) beside work by Karine Plantadit (of After Midnight and Movin' Out), Victor Wisehart (of An American In Paris), Joseph Wiggan (of Cirque du Soleil) and Danny Gardner (of Dames at Sea.)
Five artists who have previously contributed to BC BEAT will return: Sonya Tayeh (choreographer of The Wild Party and Kung Fu), Daniel J. Watts (from Hamilton and After Midnight), Al Blackstone (the 2011 Capezio A.C.E. Award Winner), Marcos Santana (from On Your Feet) and Creative Director/Producer of BC BEAT, Jennifer Jancuska.
Doors open at 7 pm and guests are welcomed into Cielo in NYC with a groove set forth by BC BEAT DJ Justin Johnston (of Rent). Attendees can expect to enjoy a drink from the full service bar, connect with choreographers and enjoy the dance floor with a cast of more than 20 Broadway performers before choreographers are introduced at 7:30 pm to kick off the performances.
For those who attend and contribute to BC Beat, the evening is as much about conversation as it is dance, performance and party.
"Although so many of my personal dancer heroes and friends are presenting work at BC BEAT, my favorite part of the event is making new friends, " said Al Blackstone. "I can't wait to have conversations with strangers that turn into friendships that could potentially turn into collaborations."
The BC BEAT experience has been described as: "Expansive. Inspiring. Stylish." (Al Blackstone); "Unique. Creative. Community." (Marcos Santana); and "Explosive. Intriguing. Inspired." (Danny Gardner.)
BC BEAT returns to Cielo, located at 18 Little West 12th Street, this Monday November 9. Online tickets are now available through Brown Paper Tickets.
Videos of all BC BEAT performances are available for viewing at www.bcbeat.net/video and on the YouTube Channel.