13 hip-hop movies coming to NY Film Forum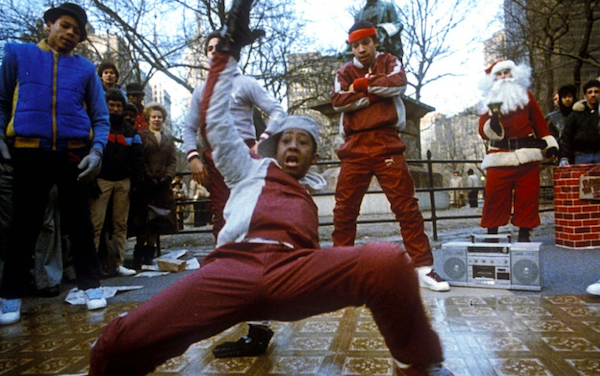 "Hip-Hop On Film," a series screening 13 movies from the early years of hip-hop, will run at the Film Forum in New York City from Wednesday, September 12 to Saturday, October 20. The series will include an evening with filmmaker-artist-musician-writer Michael Holman and a screening of his one-episode TV show Graffiti Rock as well as Beat Street with its plotline of bringing "street" to upper-crust Juilliard folks.
Programmed by Gabriele Caroti, "Hip-Hop On Film" will showcase the rise of hip-hop – rapping, DJ-ing, breakdancing and graffiti – and how it was debuted on the big screen. Not only were movies a fitting medium for hip-hop and its attendant art and culture – they also created indispensable documents of art and youth in derelict neighborhoods of the era. Plus, the movies themselves became part of hip-hop lore, creating a kinetic, organic energy that diffused beyond the boundaries of the coasts.
On Friday, September 14 at 8:50 p.m., hip-hop multi-hyphenate Michael Holman will talk about his creation – Graffiti Rock, the first-ever TV show focusing on the genre. Although it only lasted one episode in 1984, it was syndicated in 88 stations nationwide. Both a time capsule and ahead of its time, the show featured Soul Train-like dancers (including a young Debi Mazar and Vincent Gallo) breaking and popping to guests such as Run-D.M.C., Kool Moe Dee and Special K. It was also a lexicon on terminology ("Fresh!") and showcased the acrobatics of the New York City Breakers (the breakdancing crew which Holman managed and choreographed). The show even had the distinction of wowing president Reagan at the Kennedy Center.


On Saturday, October 13 at 9:40 p.m., "Hip-Hop On Film" will present the 1984 production Beat Street, Hollywood's first foray into "The Music and Break Dance Explosion!" It's plotline brings "street" to upper-crust Juilliard folks with Kool Herc as a club owner, Soul Sonic Force with DJ Jazzy Jay performing "Frantic Situation", Grandmaster Melle Mel and the Furious Five voguing hard, The Treacherous Three "Santa Rapping", the Rock Steady Crew and the New York City Breakers battling left and right, proto-freestyle duo The Sequence and Brenda K. Starr auditioning at the Roxy and finally, a hard-as-nails electro soundtrack by Arthur Baker. Produced by Harry Belafonte, it stars Rae Dawn Chong.
The "Hip-Hop On Film" movies/presentations will screen on various dates through October 20. See the complete schedule at www.filmforum.org.
Photo: Beat Street still. Photo courtesy of Film Forum.
---