2019 Women In Dance Leadership Conference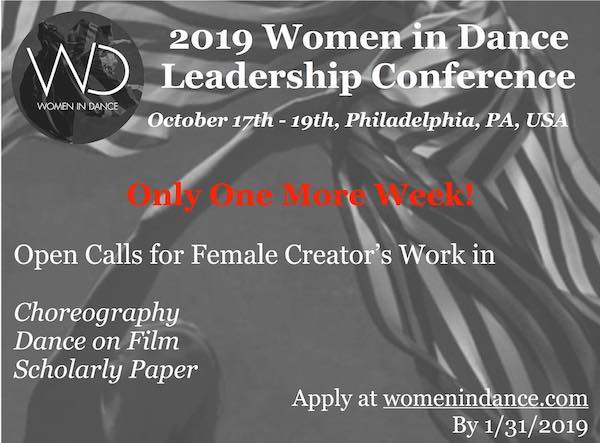 The 2019 Women In Dance Leadership Conference will be October 17-19 in Philadelphia, PA. Submissions are still being accepted for Choreography, Scholarly Papers, Panel Discussions and Dance Films.
Female choreographers are invited to submit a solo, duet or group work in any style between five and 15 minutes in length. The deadline to apply is January 31. If chosen, choreographers will present their work at the conference, with production fees covered. They will have access to all seminars and events.
Scholarly paper submissions on the topic of "Female Leadership with Diversity and Inclusion" are also being accepted through January 31. The papers should address "how to promote female leadership in dance from diverse backgrounds and inclusively in all settings including professional, education, administration and presentation." Authors of accepted papers will be invited to present their work at the 2019 conference. Papers should not be more than 5,000 words.
Those dance leaders interested in discussing the paper topic instead of writing it should apply for leading a Panel Discussion. The deadline for this is not till March 31 though. Each conference panel shall have one moderator and three to five panelists. Each panel discussion will last 90 minutes.
Finally, if you are a dance filmmaker, you are invited to submit your 5-10 minute work. The conference is accepting dance on film submissions by female directors to present their work at the URBN Center Annex Screening Room of Drexel University in Philadelphia, PA.
For more information on all these opportunities, head to www.womenindance.com/2019-conference-philadelphia-pa.