92Y announces collaboration with NYTB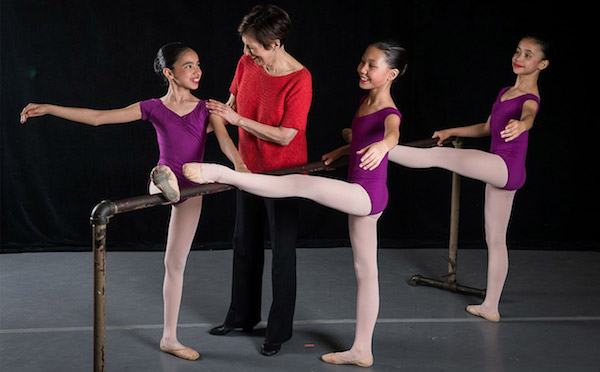 This fall, 92Y and New York Theatre Ballet (NYTB) will begin a collaboration bringing pre-professional training and performance opportunities to 92Y's School of Dance. The new program—known as NYTB at 92Y (NYTB/92Y)—is open to students starting at age 7, with curriculum based on the Cecchetti syllabus. This new collaboration is in addition to the wide array of classes for all ages and levels in ballet, modern, hip-hop, tap, jazz and more already offered at 92Y's School of Dance.
This new collaboration is spearheaded by Christine Chen, 92Y's director of dance and adult programming, and Diana Byer, NYTB's founder and artistic director. Chen commented, "We're pleased to bring this great opportunity to our serious ballet students," noting that both organizations place a great importance on both legacy and innovation.
"NYTB/92Y's curriculum, based on the Cecchetti syllabus, is aligned with the 92Y School of Dance values, looking holistically at each student and training them to be creative artists and thinkers as well as accomplished ballet dancers," Chen said. "We're also proud that these classes include an emphasis on musicality, with live accompanists in all classes. This collaboration with NYTB expands the already rich dance class offerings available to the 92Y School of Dance community."
Byer commented, "With 40 years as director of ballet instruction at NYTB School, I am excited to bring a rigorous professional training program to 92Y."
Byer has a rich history with 92Y, performing at the historic venue as a young dancer and presenting NYTB programs during the past two seasons. The company also performs at the 2019 Harkness Dance Festival.
NYTB/92Y faculty is led by Byer, bringing along teachers and assistants including NYTB Associate Artistic Director Elena Zahlmann and former New York City Ballet member and principal artist in the Paramount Pictures' film Fame, Antonia Franceschi. All classes have live accompanists.
A Workshop and Open House will take place at 92Y on August 18, offering interested parents and children an opportunity to sample a lesson and meet Byer. Placement in NYTB/92Y's selective program is by audition on September 5. The schedule for both August 18 and September 5 is: 4-5 p.m. Level 1-2 (students age 7-10); 5-6 p.m. Level 3-4 (ages 11+). Merit and need-based scholarships are available to qualified students. To register, contact Heather Childs, associate director of Children's Dance at 92Y, at 212-415-5553.
Selected students will appear in professional productions with NYTB, like in the company's Nutcracker and Once Upon a Ballet series. Students will also gain access into the dance world via an open rehearsal with NYTB's professional company on November 2.
For more information, visit www.92y.org.
Photo courtesy of 92Y.
---