Alicia Graf Mack to direct Juilliard Dance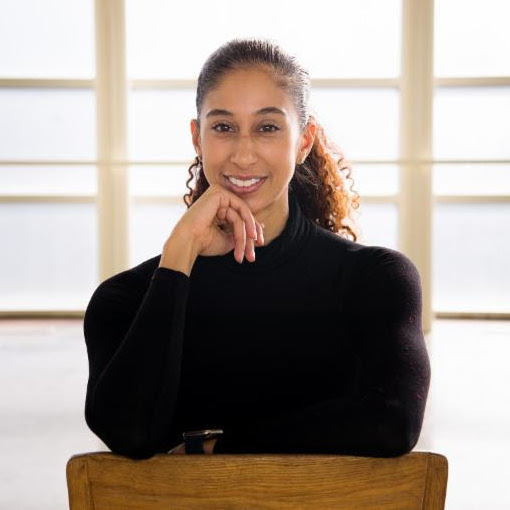 The Juilliard School in New York announced earlier this month that Alicia Graf Mack, former leading dancer of Dance Theatre of Harlem and Alvin Ailey American Dance Theater, will become director of the Juilliard Dance Division on July 1, 2018. Juilliard Dance is widely recognized as one of the most prestigious training programs in the world, offering instruction in both ballet and modern techniques designed to create true contemporary dancers and choreographers.
Mack, a native of Columbia, Maryland, has also been principal dancer with Complexions Contemporary Ballet and a guest artist with Alonzo King's LINES Ballet. As a dance educator, she is on the faculty at the University of Houston and a visiting assistant professor of dance at Webster University in St. Louis, Missouri. Mack is the co-founder of D(n)A Arts Collective, an initiative created to enrich the lives of young dancers through master classes and intensives.
Juilliard President Joseph W. Polisi said of the appointment, "Alicia brings exceptional energy, creativity and enthusiasm to the position of director of Juilliard's Dance Division. She is an innovative thinker and role model, and I am delighted to know that she will be leading our dance students into the future."
President Designate Damian Woetzel, a former principal dancer at New York City Ballet and co-chair of the steering committee of the search with Juilliard Provost and Dean Ara Guzelimian, remarked, "The excellence, intelligence and versatility that have been hallmarks of Alicia's distinguished career make her the ideal person to shape our dancers of tomorrow. I am honored to welcome this inspiring artist-educator to lead us forward into a new golden era at Juilliard Dance."
On accepting the position, Mack said, "I am beyond thrilled to join The Juilliard School and community in this capacity. The opportunity to work with young artists who are on the precipice of achieving their dreams brings me a great sense of pride and responsibility. Looking forward, I see Juilliard's Dance Division as a place that continues to embrace innovative ideas and new modalities of dance making, while holding steadfast to the legacy and incredible history of the institution."
"We already know that Alicia is an incredible dancer with a brilliant mind," said Judith Jamison, artistic director emerita of Alvin Ailey American Dance Theater. "We all know how exquisitely she understands what dance is about in all its forms. But I also love who Alicia is as a person. Sometimes people in companies care only about themselves, but Alicia is the opposite of that. She understood her talent and how she could lift up whatever company she was with. That just emanates from her."
Arthur Mitchell, co-founder and artistic director emeritus of Dance Theatre of Harlem, remarked, "Not only was Alicia a great dancer, but she's a phenomenal administrator at the same time—a combination that is rarely found in one person."
Mack succeeds longtime division head Lawrence Rhodes, who was artistic director of the Juilliard Dance Division from 2002 until 2017. Taryn Kaschock Russell has been acting artistic director for the current academic year.
Established in 1951 by William Schuman during his tenure as president of The Juilliard School, with the guidance of founding division director Martha Hill, Juilliard became the first major teaching institution to combine equal instruction in both contemporary and ballet techniques.
Each year 24 new dancers are accepted into the four-year BFA program. In addition to the daily ballet and modern technique classes, every dancer participates in classical and contemporary partnering, dance composition, anatomy, acting, dance history, stagecraft, production, music theory, repertory and elements of performing. Dancers are encouraged to present their own choreographed works in informal concerts and workshop presentations. Each fall every class has the opportunity to work with established choreographers in premiere dances as part of the New Dances performances. Recent commissions include works by Bryan Arias, Roy Assaf, Gentian Doda, alumnus John Heginbotham, Matthew Neenan, Gustavo Ramírez Sansano, alumna Katarzyna Skarpetowska and Pam Tanowitz. Spring performances give dancers the opportunity to perform in established works from repertory. Recent repertory performances included works by alumna Pina Bausch, Merce Cunningham, Nacho Duato, William Forsythe, Martha Graham, Jiří Kylián, José Limón, Mark Morris, Crystal Pite, Jerome Robbins, alumnus Paul Taylor and Twyla Tharp.
Juilliard Dance alumni include, among many others, the choreographers and directors Robert Battle, Jessica Lang, Lar Lubovitch, Andrea Miller, Ohad Naharin and Paul Taylor. Juilliard dancers are currently dancing in Nederlands Dans Theater, Nederlands Dans Theater 2, Ballet BC, Aspen/Santa Fe Ballet, BJM_Danse, L.A. Dance Project, Limón Dance Company, GöteborgsOperans Danskompani, Ballett des Saarländisches Staatstheater, Kidd Pivot and Batsheva Dance Company, among many others, as well as in several Broadway productions.
The Juilliard Dance Division, proud recipient of the 2015 Capezio Award, was the first educational institution to receive the honor. Learn more at juilliard.edu/dance.
Photo: Alicia Graf Mack. Photo courtesy of Webster University.
---