Alight Dance Theater in season finale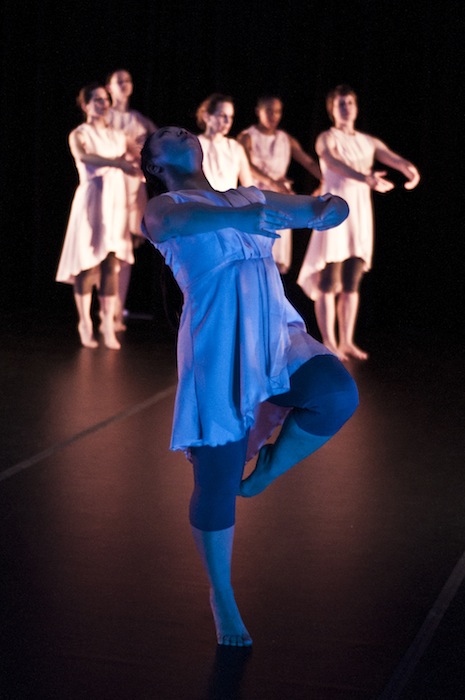 Alight Dance Theater, a small dance ensemble based in Greenbelt, Maryland since 2010, will wrap up its 2012-2013 season later this month with performances of the company's newest works, Stargazing and The 50's Front.
Featuring live music by local artists of Harp 46, Artistic Director Angella Foster's Stargazing will tell the story of the starry night from the spectacular death of a star to the splendor visible from our own backyards. This premiere work was partially debuted at the company's Season Preview Party in February, but this will be the first time it is performed in its entirety.
A fusion of dance, shadow play and music, Stargazing will feature six dancers as well as costumes by Chelsey Schuller and lighting design by Jason Aufdem-Brinke.
In The 50's Front, Resident Artist Wayles Haynes weaves together family lore, fashion and mid-century Americana in an examination of the humor and pathos of the mother-daughter relationship. Premiered in 2011, this relatively new work examines the facades that were created in the 50s to protect and guide women through the world. Wearing ladylike gloves, clip-on earrings and silk patterned pocket squares, the dancers examine these trends as vehicles for feminine expectation and heritage.
Haynes' work The 50's Front ultimately breaks down and reconstructs family relations to create a sentimental, funny, sometimes tacky, but always curious, journey of finding self.
Following Alight Dance Theater's performances of these two works, the company invites guests to stay for brief receptions that will include some "yummy homemade treats."
Performances will be presented on Saturday, June 29 at 8 p.m. and Sunday, June 30 at 7 p.m. at Dance Place, located at 3225 8th Street NE in Washington D.C. For tickets and directions, visit www.danceplace.org.
Alight Dance Theater creates performance events that celebrate the power of story and inspire others to be compassionate viewer-participants in their communities.
Photo: Alight Dance Theater performing Angella Foster's Stargazing. Photo by Maggie Picard Photography.