Amanda Selwyn Dance returns to the garden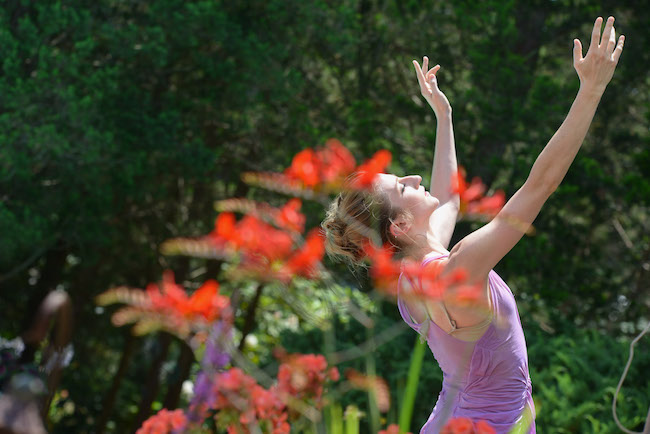 Amanda Selwyn Dance Theatre will soon present Green Afternoon VI, an annual interactive garden installation and performance at the home of architects Marcia Previti and Peter Gumpel in East Hampton, NY.
Set for Saturday, August 18, the evening will begin at 5 p.m. with cocktails, hors d'oeuvres and several outdoor sitting rooms featuring performance installations, with performers dancing in tree houses, on outdoor sculptures, in and around the swimming pool, in the woods and more. After the moving installations, at 5:50 p.m., the audience will move to the lawn for a seated performance of Selwyn's developing work Crossroads.
Crossroads is a new work scheduled to have its full premiere in June 2019. The piece explores forging into unchartered waters and that tumultuous process of self-discovery. Inspired by the work of Margritte and Escher, Selwyn will collaborate with scenic and costume designer Anna-Alisa Belous to shape a surrealistic landscape that highlights these lingering moments at the crossroads, choosing one path or another, and how these moments steer the course of our lives.
"Amanda Selwyn is a master at illustrating the symbiosis of sound and movement, the romance of motion and emotion – she had me laughing, crying, cringing and gasping all in the short 55-minute production," stated a Inside New York review.
Green Afternoon VI will take place at 230 Old Stone Hwy, East Hampton, NY 11937. Tickets are $100 and can be purchased at www.amandaselwyndance.org.
To get to the performance site from the center of East Hampton, take Montauk Highway/Route 27 to first traffic light past the windmill. Turn left onto Accabonac Highway. Drive four miles to the stop sign at the forked intersection, then cross the main road and turn right onto north-most fork, Old Stone Highway. Drive 0.25 mile to #230 (mailbox on tree). Attendees should park on the main road and walk up the drive to the first house on the right.
Photo courtesy of Amanda Selwyn Dance Theatre.
---