American Dance Festival Masterclass in Plano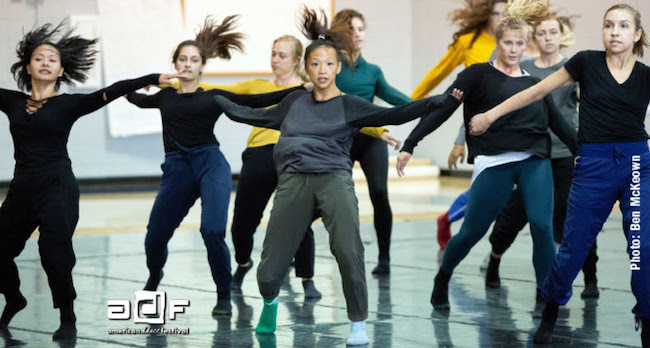 Are you a high school or college student living in North Texas? Then check out this event being presented by American Dance Festival (ADF), Dance Council of North Texas (DCNT) and Collin College in Plano, TX! On Sunday, October 14, the event Dancers Network will include a Countertechnique Masterclass taught by ADF Faculty Member Joy Davis and an Audition for DCNT Scholarships.
Held at Collin College's Spring Creek Campus, the event will see the masterclass run from noon till 1:30 p.m. and the audition last from 1:30 to 2:30 p.m.
Joy Davis a dance artist and educator steeped in the practices of Countertechnique and improvisation. She began studying Countertechnique with its Founder Anouk van Dijk in 2005 and became a teacher in 2012. She teaches all over the U.S., including the Seattle Festival of Dance Improvisation, Lion's Jaw Dance + Performance Festival in Boston and ADF in Durham, NC. Her initiative, joyproject, produces collaborative dance theater performances since 2006. She was a Chicago Dancemakers Forum Greenhouse Artist, Choreographic Resident at the Workspace for Choreographers, Choreographer's Lab Artist with New Dialect (Nashville), NeXt Choreographer for Urbanity Dance (Boston) and Special Edition Artist with The Theorists (Austin). Davis currently collaborates with Mountain Empire Dance Collective, School for Contemporary Dance and Thought, and together with Alexander Davis, The Davis Sisters, were named 2018 Schonberg [Boston] Fellows at The Yard, where they created a new evening length work Junk Drawer. She received an MFA in Choreography and Performance from Smith College in 2015, and has since taught as Visiting Faculty at Smith College, Wesleyan University and Harvard University. She's an Associate Professor of Dance at Boston Conservatory at Berklee.
Register for the masterclass led by Davis at Dancers Network on October 14 at dancecouncil.clubexpress.com.
Dancers Network is a free event, and also provides attendees the opportunity to network with future dancers, educators and arts organizations. It's mission is offer dancers the chance to further their careers. This is accomplished through the masterclass and auditions, but also by booths occupied by vendors, dance companies, studios, educational institutions and arts organizations. One station will even offer 20-minute headshot/dance photo sessions with experienced portrait photographer Brandon Tijerina for $35.
Auditions will be for the ADF Pre-Professional Dance Intensive (ages 13-17) and the ADF Summer Dance Intensive (ages 18+). There will be a Company Audition as well! 6 o'Clock Dance Theatre Artistic Director Zach Ingram will lead a contemporary audition for dancers aged 18+ from 4 to 5 p.m. There is no dress code but ballet shoes are suggested.
For more information, visit dancecouncil.clubexpress.com.
---