American dance given platform in Bulgaria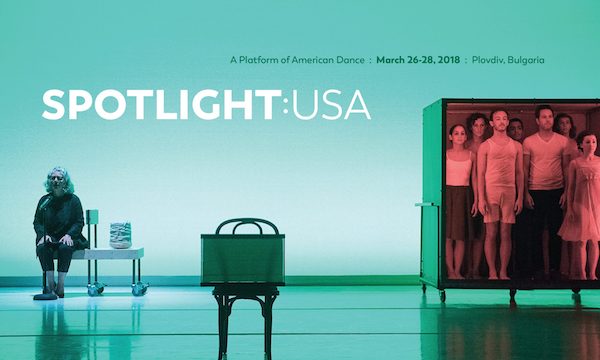 SPOTLIGHT: USA, a platform of American dance in Bulgaria, will soon feature U.S. dance companies in performances in Plovdiv, Bulgaria. From March 26-28, SPOTLIGHT will introduce American dance companies to international dance professionals; increase cultural exchange and appreciation between the U.S. and Bulgaria. It will provide opportunities for American dance to be seen and embraced by international audiences, and lay the groundwork for sustained collaboration among the numerous countries that will attend.
Performances will be presented in four venues throughout Plovdiv, designated the 2019 European Capital of Culture. Two organizations, American Dance Abroad and One Foundation for Culture and Arts, are closely collaborating on the project and have together invited 50+ international programmers from approximately 30 countries to attend the event.
American Dance Abroad is a national organization that seeks equitable cultural engagement among American dance artists and companies and their international counterparts. It facilitates introductions and creates opportunities for artistic discovery and dialogue. It was created as a tactical response to the decline of American dance in the global marketplace as put forth in Dance America: An International Strategy for American Dance, co-authored by Carolelinda Dickey and Andrea Snyder in 2009, co-directors of American Dance Abroad.
On the other hand, One Foundation For Culture And Arts was established in 2010 to support the activity of EDNO, a platform that produced the annual festivals Sofia Design Week, Sofia Dance Week and Sofia Architecture Week. In 2013, the festivals were relocated from the capital in Sofia to Plovdiv, the second biggest city in the country, to aid the decentralization of cultural events in Bulgaria. The festivals were hence renamed One Design Week, One Dance Week and One Architecture Week. One Foundation for Culture and Arts' mission is to provide continuous development of local culture through delivering rich, innovative and high quality content that is accessible to all communities, and to enable cultural exchange between local and international artists.
Artists performing in the 2018 SPOTLIGHT: USA event include Dance Heginbotham, Jonah Bokaer Choreography, CONTRA-TIEMPO, Palissimo Co., Kate Wallich + The YC, Christine Bonansea Company, fidget, Tahni Holt Dance and Degenerate Art Ensemble.
To view the schedule, head to spotlightusa.org.
Image: Dance Heginbotham in Principles of Uncertainty in 2017. Photo by Christopher Duggan.