Apply for $10,000 choreographic award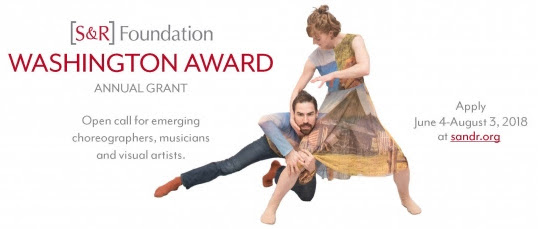 Since its founding in 2000, the non-profit S&R Foundation in Washington D.C. has sought to support talented artists and scientists in their fields. S&R sponsors annual awards programs, operates its Kingfisher Global Leadership program and works with its partners to encourage social, scientific and artistic innovation. In 2018, S&R continues its commitment to supporting talented artists, including dancers, through its Washington Award.
"This year we are excited to announce the amount of the Washington Award will be increased to a cash prize of $10,000," states the S&R Foundation on its website. "In addition, the Awards Committee may designate a Grand Prize winner who will receive an additional $5,000."
The 2018 winners included Grand Prize-winning choreographer Gabrielle Lamb and Washington Award winners Sara Daneshpour (Piano), Alicia Eggert (Interdisciplinary Artist), Paul Wiancko (Composer) and Yoshie Ueno (Flutist).
Award winners are honored annually in the spring at the Washington Awards Ceremony.
Applications for the 2019 Washington Award are now open through August 3. Visit www.sandrfoundation.org for more information.
---