Ballet West presents 4 esteemed companies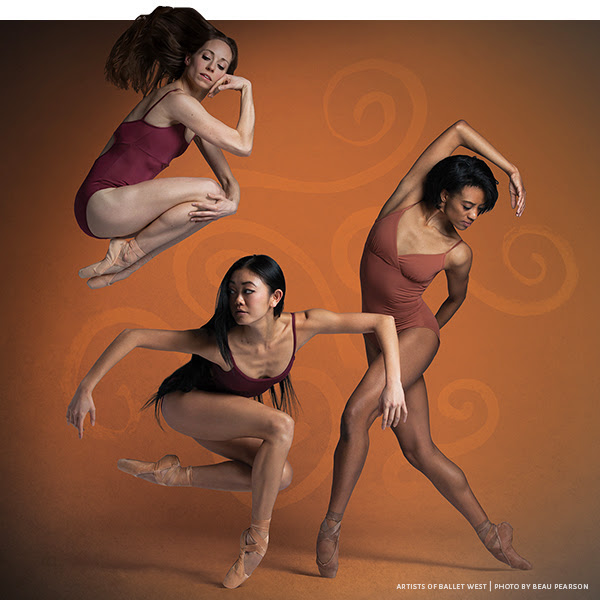 Ballet West will host four renowned ballet companies from across the United States for the second-annual National Choreographic Festival at the Rose Wagner Performing Arts Center in Salt Lake City, UT on May 17 – 26. Over two weekends, and with two different programs, the Festival will celebrate new works that will nurture and challenge the art form.
Artistic Director Adam Sklute has programmed the Festival to highlight female choreographers and companies that are led by women.
"Well before the #MeToo movement, the ballet world was having its own conversation about women in leadership positions," said Sklute. "That conversation is only more meaningful and poignant today. I am glad our industry and the nation at-large is having a conversation about the workplace, equal rights and human rights. For years, I have wanted to celebrate women in ballet leadership roles, and I hope this Festival continues the conversation about equality for women and indeed all people. I look to a day where that degree of equality is a given."
Along with the esteemed guest companies, Ballet West will present its own world premieres by Australian choreographer Natalie Weir the first weekend and rising star choreographer Africa Guzman the second. Sklute has split the four companies and the Weir and Guzman premieres over two weekends.
The first weekend (May 17-19) will feature:
- Richmond Ballet – Artistic Director Stoner Winslett celebrates her 38th year by commissioning Akwarium, a new creation by Polish dancer and choreographer Katarzyna Skarpetowska.
- The Washington Ballet – Led by Artistic Director Julie Kent, the company will present a rising choreographer and American Ballet Theatre Corps Artist, Gemma Bond, staging a new work, MYRIAD. Her work has been called detailed and structured.
- Ballet West –Australian choreographer Natalie Weir will be doing a new reworking of her popular Jabula, uniquely retooled specifically for Ballet West. Weir's body of work has been described as "exhilarating and stunning." Weir has choreographed internationally, including American Ballet Theatre and Hong Kong Ballet.
The second weekend (May 24-26) will feature:
- Cincinnati Ballet – For the 20th anniversary of Artistic Director Victoria Morgan, the company will present Resident Choreographer Jennifer Archibald's signature soulful movement in a new work, MYOHO, that "investigates human behavior."
- Charlotte Ballet – Hope Muir and her company will bring the exciting, award-winning choreographer Robyn Mineko William's To Clear with an original commissioned score by Robert F. Haynes and Tony Lazzara.
- Ballet West – Stages Sweet and Bitter by Spanish choreographer Africa Guzman, which was workshopped at The Joyce Theater in the fall of 2017 and received high praise from New York media.
"The Ballet West National Choreographic Festival is born out of our Innovations series," says Sklute. "It is designed to give audiences the broadest scope of fresh new choreography that is out in the world today. I am excited and honored that our friends from around the country will be joining us to showcase their wonderful companies and choreography."
The National Choreographic Festival will be held at the Rose Wagner Performing Arts Center, 138 Broadway, Salt Lake City, UT. Tickets start at $50 and are available by calling 801-869-6900 or by visiting www.balletwest.org.
Photo: Artists of Ballet West. Photo by Beau Pearson.
---