BalletFest Atlanta and Jazz on Tap return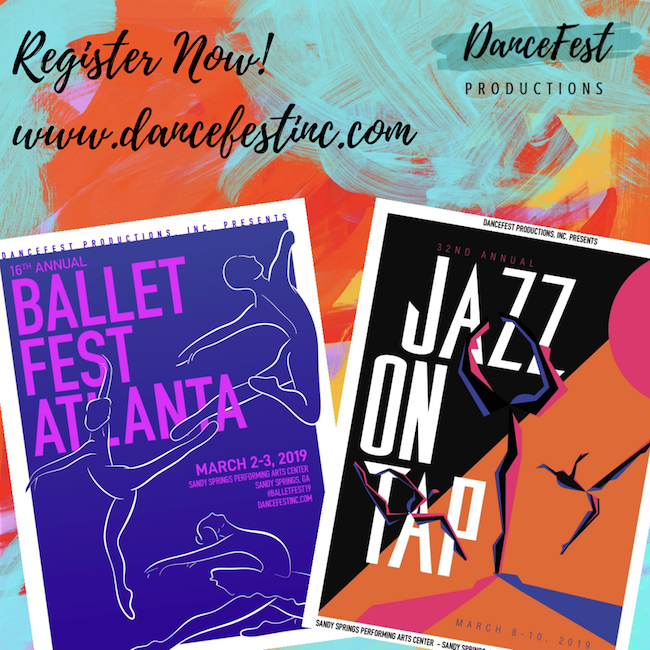 DanceFest Productions, Inc. brings dancers invigorating events to fuel their passion and love for dance. After a successful inaugural DanceFest Contemporary Winter Workshop on November 3, the Atlanta-based organization is now gearing up for its two annual festivals.
The 16th Annual BalletFest Atlanta will be held March 2-3, 2019. This weekend dance festival for dancers aged 8 and above is packed full of master classes from captivating instructors and performances from dance studios, pre-professional companies and professional companies.
This festival began more than 15 years ago in the hopes of bringing the fire and excitement of live dance to the public. Over the years dancers have traveled to Georgia from more than 20 states to add their spark to the flame.
Featured faculty for 2019 include Alison Stroming, Christine Welker, Adrienne Hicks, James Boyd and Allison Gupton. More instructors will be announced soon.
The deadline to register to perform is November 30. It costs $70 per performance piece. On the other hand, master classes are $24 each and registration opens January 1. For more information, visit www.dancefestinc.com.
Secondly, DanceFest Productions, Inc. will present the 32nd Annual Jazz On Tap on March 8-10, 2019. This weekend dance festival includes master classes and performances as well.
Featured faculty for Jazz on Tap 2019 include Jay Fagan, Justin Bryant, Katherine Maxwell and Darvensky Louis. Registration deadlines and costs are the same as BalletFest Atlanta so head to www.dancefestinc.com now!
Both BalletFest Atlanta and Jazz On Tap 2019 are taking place at the brand-new, state-of-the-art Sandy Springs Performing Arts Center (a.k.a. "City Springs Theatre").
"Our festivals are an incredible opportunity for your dancers to have some stage time, and to showcase your choreography and dancer's talent!" commented Owner Allison Gupton.
Visit www.dancefestinc.com for more information. Contact dancefestproductions@gmail.com or call 404-290-4733 with any questions.