Benita Bike begins its season with a program of dance exploration at AMP Theatre in LA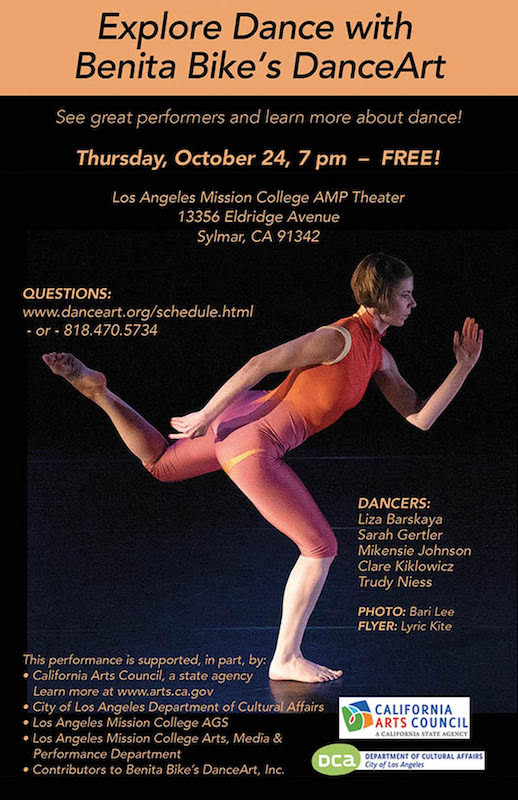 Benita Bike begins its 2019-2020 dance season with a program of dance exploration at Los Angeles Mission College's beautiful AMP Theater on Thursday, October 24, 7pm.
Join members of the community, students, and faculty for this unique dance experience where you'll see great dancing and also tell the artists what you think.
This FREE performance is supported, in part, by the California Arts Council – a state agency, the City of Los Angeles' Department of Cultural Affairs, Los Angeles Mission College AGS, and Los Angeles Mission College Arts, Media & Performance Department.
Benita Bike's DanceArt is a Los Angeles based modern dance company that receives praise for its polished concert work and its extensive community outreach. Like a string quintet, the dancers of Benita Bike's DanceArt perform with uncommon sensitivity to one another, bringing intense beauty and vibrancy to each delicately crafted, expressive movement. Now in its 39th season, the Company is experienced at introducing dance to new viewers and enriching the experience of those already familiar with the dance art.
Benita Bike's DanceArt will present "For Rose," a stark and poignant mother-daughter duet, and the newly reconstructed "Entrelazadas," accompanied by music written by Spanish composers Juan del Enzina, Gaspar Sanz, and Joaquin Rodrigo.
For program information visit: www.danceart.org