Birmingham Royal Ballet tours in the spring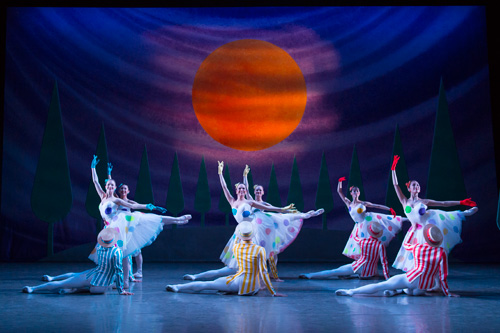 Birmingham Royal Ballet in the United Kingdom will tour to the north and south in May 2015. As part of its North Tour, the company will present a triple bill at the Grand Opera House in York, the Theatre Royal in Nottingham, Theatre Severn in Shrewsbury and in Durham Gala. For the South Tour, it will present another mixed bill with various ballet highlights at the Hall for Cornwall in Truro, The Lighthouse in Poole, the Everyman Theatre in Cheltenham and Wycombe Swan in High Wycombe.
The breathtaking program for the North Tour will present works by two of the greats of British ballet, Sir Frederick Ashton and Sir Kenneth MacMillan, alongside a powerful work from up-and-coming choreographer Alexander Whitley, all performed to live music from members of the Royal Ballet Sinfonia.
A huge hit when it was first performed in 1933, Ashton's Les Rendezvous is loosely based on a group of friends meeting up in a park. It presents series of fiercely difficult divertissements. Kin., on the other hand, is a recent work just premiered in 2014 that is set to music by American composer Phil Kline. In MacMillan's Elite Syncopations, audiences will watch dancers in brilliantly colored costumes gather for a dance competition.
The diverse program for the South Tour will present an exciting, energetic work from company dancer and choreographer Kit Holder and an early hit ballet by Sir Frederick Ashton, alongside thrilling excerpts from some of the world-famous classics with which Birmingham Royal Ballet has made its name. Again, all these will be performed to live music from members of the Royal Ballet Sinfonia.
Inspired by the vibrant tango rhythms of Astor Piazzolla's The Four Season's of Buenos Aires, First Artist Kit Holder presents Quatrain, a fantastically exciting work, and his third for the company. In addition, Birmingham Royal Ballet once again presents a selection of excerpts from Swan Lake, Beauty and the Beast and
 La Fille mal gardée. Then, in conclusion, audiences will see Façade, Ashton's first big hit in 1931. Based on Edith Sitwell's deliciously nonsensical poetry, the work embraces the fun of it all with whole-hearted and willful abandon.
To see dates for these tours, visit www.brb.org.uk.
Photo: Artists of Birmingham Royal Ballet in Les Rendezvous. Photo by Bill Cooper.