BLACK SAPPHIRE DESIGN

Your hardest working dancers deserve the best dance costumes for their competition!
It is our mission to provide these young ladies with magnificent costumes, so that they can look and feel their very best on stage.
Because we are a handmade company, we have full control over the pattern making and design elements of our costumes. This way we can ensure your team costumes are coordinated, your fit is consistent, and your quality costumes will hold up for seasons to come. Because in the professional world of dance, a catalog costume simply won't cut it.
Find costumes to fall in love with for every genre. We design elegant leotards for ballet, flowing lyrical costumes, modern and edgy contemporary styles, and stunning jazz costumes. New costume collections are released 1-2 times per year to bring you the latest fashions.
Effortlessly order for your soloist and groups, large or small. Sizes are available for tiny dancers, tweens, and adults. And our consistent, vetted fabric selection makes it easy to coordinate separates for the custom stage look you desire. Browse our site for our current color palettes, with both trendy and classic options. New this season are burnout velvets, sequin trim, and flocked mesh.
We are supportive of Dance Educators and the Arts, and the impact they have on forming young minds. This is why we offer special rates for studios, schools, and other organizations. Apply for your studio account today. We look forward to working with you!
Costume Examples:
Long Sleeve Mesh Biketard – Black Pleather
SKU: BSDFW18078
Tribal costume is sure to make a memorable impression on judges and audiences alike during your EPIC performance. Backless turtleneck bodysuit features a pleather cutout design, perfect for tribal or warrior theme dances.
-Long sleeve biketard is made of black mesh with allover cutout pleather sewn on design
-Attached shorts are lined black Lycra, in a full coverage cut with 3" inseam (adult sizes)
-Lined bandeau in front is black Lycra, as well as high neck with back plastic closure
-Open back design
-Sizes CXS through AXL for everyone in your Company
www.blacksapphiredesign.com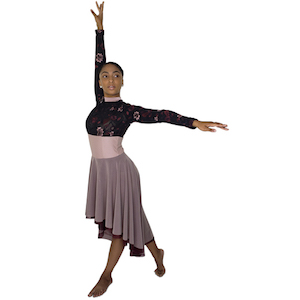 Dark Lyrical Dance Costume – Dusty Rose
SKU: BSDFW18073
Meet the dance dress that will have your entire crowd captivated. Mesh bodice features a unique, gorgeous embroidered flower design. Paired with dusty rose and wine colored sweeping skirt & high neck, this leotard dress is ready to grace the stage for your darker lyrical or contemporary songs.
-Embroidered mesh front is lined; sleeves and back with cutout detail are unlined
-Dusty rose lycra bodice with mesh overlay has mock princess seams
-Attached two layer mesh skirt with a sweeping high low hem, wine & dusty rose color
-Wine color lycra briefs are fully lined
-High neck of dusty rose lycra, plastic closure at back for security
-Sizes for everyone CXS – AXL
www.blacksapphiredesign.com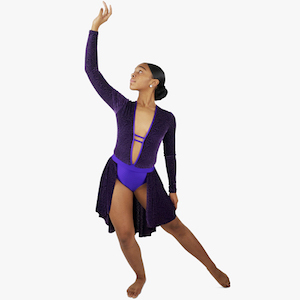 Velvet Deep Plunge Leotard – Long Sleeve
SKUS: BSDFW18076B & BSDFW18077
Look and feel like Royalty in this velvet competition leotard!
Rich jewel tones lend a sophisticated look, while the sexy, yet classy low cut leotard will have your audience swooning. Gorgeous on its own in long sleeve or sleeveless options, or add the coordinating open front skirt for a beautiful romantic costume fit for a Queen.
-High waist briefs in fully lined Lyrca
-Front bodice is lined, burnout velvet stretch mesh in a gorgeous pattern
-Long velvet burnout sleeves
-Sizes for everyone, XSC-XLA
-Gorgeous colors to choose from
www.blacksapphiredesign.com
Contact
Lindsey McCorkle
dance@blacksapphiredesign.com
Get social with us:
facebook.com/blacksapphiredesign
instagram.com/blacksapphiredesign
pinterest.com/myblacksapphire