BodyStories to make its Chicago debut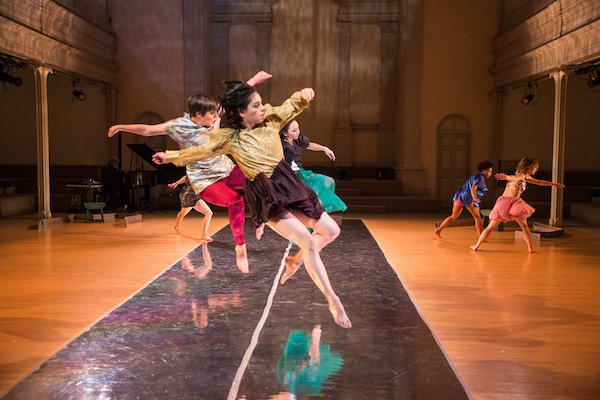 Winifred Haun & Dancers and New York's BodyStories: Teresa Fellion Dance will present two works each on May 3 and 4 at Hamlin Park Studio Theater in Chicago's Lakeview neighborhood
.
Winifred Haun & Dancers will present Trashed, its award-winning work choreographed in 2017 by Winifred Haun and renowned Australian circus artist Emma Serjeant. Trashed combines modern dance and contemporary circus to tell the story of how humans have come to clutter their lives with too much stuff, and how all that stuff keeps us from each other.
Winifred Haun & Dancers will also present the acclaimed solo, The Woman Who Fed Her Diamonds to the Goldfish Bowl. Choreographed in 2001 by Lonny Joseph Gordon for Winifred Haun, The Woman Who… explores the inner life of a uniquely disturbed woman and features interesting props: a table, a doll, jewelry and water in a goldfish bowl.
BodyStories: Teresa Fellion Dance will show its recently premiered work: rose walk green ice. The culmination of a trilogy that began with HOME and Agawam, rose walk green ice explores self-awareness within communal bonds, by varying spatial orientation to the audience, and utilizing various groupings. By highlighting key moments from previous parts of the trilogy, audiences are offered multiple perspectives of each character in the dance. Through these perspectives, notions of familial bonding and identity formation are revealed.
BodyStories: Teresa Fellion Dance will also present a duet, Fault Line, a work that reflects growth, repetition, intimacy and separation, which parallels human relationships at varying levels of connection. Complicated phrase work and partnering embody how relationships and movement can ricochet, support and harmonize.
"Winifred Haun & Dancers with BodyStories: Teresa Fellion Dance" can be seen this Thursday, May 3 and Friday, May 4 at 7:30 p.m. Tickets are $25 for general admission and $16 for children (ages 6 to 18
). Kids aged five and under are free. 
Book tickets online at www.BrownPaperTickets.com. Street parking is available.
Photo courtesy of BodyStories.
---