BodyVox and Amphion String Quartet pair up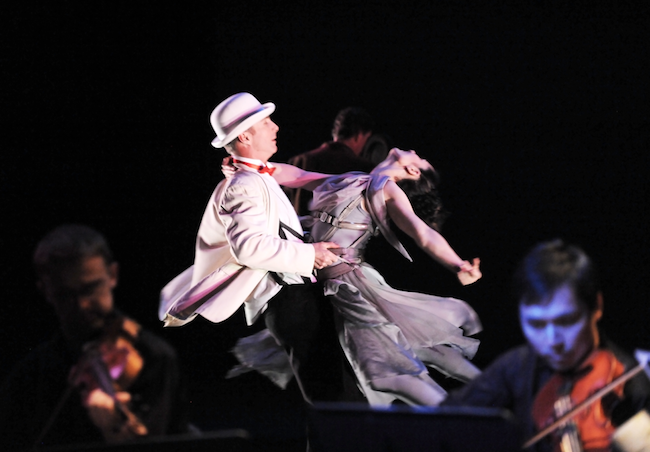 Portland's BodyVox pairs with the Amphion String Quartet for Cosmosis, an edgy marriage of dance theatre, film, and live chamber music. As the title (cosmos + osmosis) suggests, this is a highly dramatic, sweeping piece of dance theatre created by BodyVox Artistic Directors Jamey Hampton and Ashley Roland.
Inspiration for the work was found in the world of fine art, and in particular Northwest artist Sherrie Wofle, who made artistic contributions to the show.
"Sherrie brought to our attention the physical resemblance of BodyVox dancer Heather Jackson to the woman featured in John Singer Sargent's iconic portrait of Madame X," explains Hampton. "The image stuck, and I think you'll see its influence in a duet that features Jackson and cellist Mihai Marica."
Cosmosis is performed to an eclectic musical score, including Vladimir Martynov's "The Beatitudes," Edgar Meyer's "Quintet and Rorem", Samuel Barber's "String Quartet #1", Zhou Long's "Four Seasons", and Stephen Brown's "Takakkah Falls." In addition, New York composer Danielle Schlossberg has arranged two songs by Portland native Elliott Smith. Schlossberg has also contributed three new compositions of his own to the program.
Hampton and Roland were introduced to the Amphion String Quartet and Daniel Schlossberg by Chamber Music Northwest Artistic Director David Shifrin during BodyVox's ongoing collaborative work with the festival. Hailed by The New York Times for its "precision, assertiveness and vigor," the Amphion String Quartet "plays with a brand of fierce, sharply directed energy and the kind of intensely focused sound that makes every line in a texture stand out clearly." These attributes make the young ensemble a perfect complement for BodyVox's richly theatrical and emotionally charged approach to dance theatre.
Cosmosis will premiere at the BodyVox Dance Center in 11 performances, from May 21 to June 6. Tickets are available online at www.bodyvox.com, at the BodyVox Dance Center or via phone 503-229-0627.
Photo: BodyVox dancers Daniel Kirk and Heather Jackson in Falling For Grace. Photo by David Krebs.