Boston Ballet plans three debut tours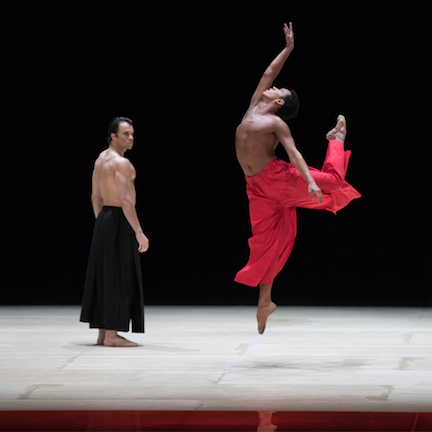 Now that summertime is upon us, Boston Ballet is launching an exciting schedule of three debut appearances, with special performances with the New York Philharmonic at Lincoln Center this month, followed by the Boston Symphony Orchestra at Tanglewood in August. The company will then embark on its first tour to Paris to perform at the iconic Théâtre des Champs-Élysées in April 2019.
"I'm thrilled to present Boston Ballet to new audiences and to work in partnership with two renowned artistic organizations, the New York Philharmonic and the Boston Symphony Orchestra," said Artistic Director Mikko Nissinen. "Showcasing our company's artistry for the first time in Paris is also a huge milestone for the company, and a dream come true for me."
In Paris, Boston Ballet will debut at the historic Théâtre des Champs-Élysées on April 9–11, 2019. The company will present the European premiere of acclaimed choreographer William Forsythe's latest world premiere, created for Boston Ballet as part of the Full on Forsythe program in March 2019, along with his Pas/Parts 2018 and Jiří Kylián's Wings of Wax.
Prior to the Paris tour, Boston Ballet will perform Obsidian Tear in the company's debut with the New York Philharmonic at David Geffen Hall at Lincoln Center on Friday, June 8. The ballet is presented as part of Foreign Bodies, a one-night-only multidisciplinary event conducted and hosted by Esa-Pekka Salonen, concluding his tenure as the New York Philharmonic's Marie-Josée Kravis Composer-in-Residence. Obsidian Tear is choreographed by The Royal Ballet Resident Choreographer Wayne McGregor and is set to Salonen's Nyx and Lachen verlernt. Boston Ballet presented the North American premiere of Obsidian Tear, a co-production with The Royal Ballet of London, in November 2017 at the Boston Opera House.
On Saturday, August 18, Boston Ballet will debut at Tanglewood Music Center in Lenox, Massachusetts, for a centennial tribute to Leonard Bernstein and Jerome Robbins. Part of an all-Bernstein program, the company will perform Robbins' Fancy Free accompanied by conductor Andris Nelsons and the Boston Symphony Orchestra. Fancy Free was the first ballet Robbins ever choreographed, with music by then up-and-coming composer Bernstein. Boston Ballet will continue the celebration of the storied friendship of Robbins and Bernstein with its season opening program, Genius at Play, an all-Robbins program featuring Fancy Free, Interplay and the company premiere of Glass Pieces (September 6–16 at the Boston Opera House).
For more information about Boston Ballet's upcoming tours, visit bostonballet.org/tour.
Photo: Paulo Arrais and Irlan Silva in Wayne McGregor's Obsidian Tear. Photo by Rosalie O'Connor, courtesy of Boston Ballet.
---