Boston Ballet presents 'BB@home' this Friday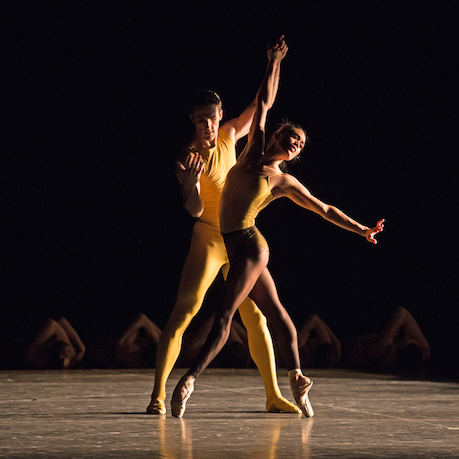 Six Boston Ballet dancers will present premieres of their own choreography, featuring fellow company members, at Dancer/Dance-makers, this Friday, October 6 at 7:30 p.m. at Boston Ballet's South End headquarters, located at 19 Clarendon Street.
As part of the BB@home series, Dancer/Dance-makers is an opportunity for audiences to see Boston Ballet perform in an intimate, black box theater setting. The program features works by Principal Dancer Paulo Arrais; Soloists Isaac Akiba, Roddy Doble, and Florimond Lorieux; and Company Artists Reina Sawai and Matthew Slattery. Following the performance, all choreographers will discuss their works, moderated by Artistic Director Mikko Nissinen, with an opportunity for questions and answers with the audience.
"I am thrilled we are able to nurture our dancers' choreographic talents by presenting their work at BB@home this season," said Artistic Director Mikko Nissinen. "Choreographing puts the dancer in the driver's seat. They get to make all the decisions—from music to staging, timing, and lighting. It can be daunting the first time, but also incredibly empowering."
The dancer-choreographers will present six short premieres, ranging from duets to ensemble works, that explore a variety of themes, including love, technology, unity and relationships.
Set to Karl Jenkins' Adiemus Variations, Arrais' ensemble piece Castle is the first movement of a larger project he has in mind. Akiba's new work to Kodo, Taiko Performance Arts Ensemble's drum and vocal track "Burning", examines how we are fundamentally the same despite our differences. Doble, recently promoted to soloist with Boston Ballet, is choreographing on professional dancers for the first time, and will present a pas de deux titled Things We've Said to Takashi Yoshimatsu's Around the Round Ground: II. Slattery's new work is set to Six Drummers' "Kitchen," music created using everyday objects.
Lorieux and Sawai are choreographing for the first time as well. Lorieux's pas de deux to Chopin's Nocturne No. 20 was inspired by the music and choreographers who have influenced Lorieux's career, including Jerome Robbins, John Neumeier and Rudolf Nureyev. With Sawai's contemporary work 54448 #5, set to Nosaj Thing's electronic track "Light #5," she hopes audiences will rethink other styles of dance.
BB@home is approximately one hour and 15 minutes with no intermission. Tickets are $55. For more information, visit www.bostonballet.org or call 617.695.6955.
Photo: Boston Ballet's Roddy Doble and Lia Cirio in William Forsythe's Artifact 2017. Photo by Rosalie O'Connor, courtesy of Boston Ballet.