BUGLISI DANCE THEATRE Ode to the Planet and Humanity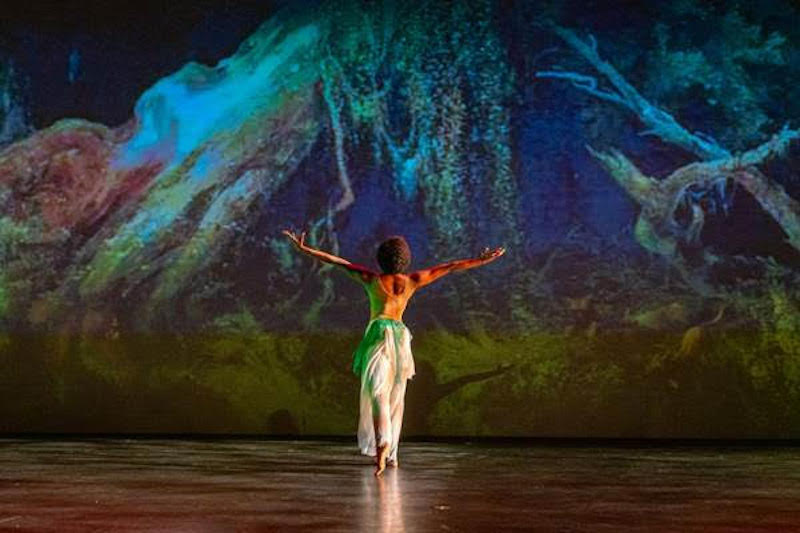 Buglisi Dance Theatre celebrates its 26th Anniversary Season with a program of works by artistic director Jacqulyn Buglisi, company principal dancer Virginie Mécène, Kristine Bendul and Abdiel Jacobsen, and Meagan King. The December 10-12th program will feature two world premieres by Ms. Buglisi, and a NYC premiere by Ms. Mécène, presented with a commissioning award from the New York State Council on the Arts, and performed by the brilliant of company dancers known for their power and passion.
The Tuesday December 10 performance, an early Performance of Premieres running one hour, will begin at 6 PM and consist of The Moss Anthology: Variation#5, UNUM, In the name of the fire, and the flame, and grace, and Sand. The full program will be performed Wednesday and Thursday, with curtain time at 7:30 PM.
Added to the season are two works: I Love You, an exquisite ballroom dance performed by Kristine Bendul and Abdiel Jacobsen (Wednesday and Thursday).
Artistic Director Jacqulyn Buglisi will present the World Premiere of The Moss Anthology: Variation#5, which she has created to a commissioned score by Emmy Award winning composer Jeff Beal, famed for his compositions for film, television, concert halls, and environmental documentaries.
The program's second World Premiere is Ms. Buglisi's In the name of the fire, and the flame, and grace…jb. The solo, performed by renowned principal dancer Blakeley White-McGuire, is dedicated to all people suffering from the global refugee crises.
Receiving its New York City Premiere is Virginie Mécène's UNUM, commissioned by Buglisi Dance Theatre and performed by Ben Schultz, Ricardo Barrett, and Alessio Crognale.
The season will also celebrate the 2001 Sand, one of Ms. Buglisi's major environmental works. The Moss Anthology: Variation#5 (World Premiere)
The award-winning Buglisi Dance Theatre is acclaimed for poignant, theatrical dances and multi-disciplinary collaborations on the human condition, promoting awareness of the critical issues and emotions of our time, from social justice to climate change. Based in New York City, the Company was founded in 1993 by Jacqulyn Buglisi, Terese Capucilli, Christine Dakin and Donlin Foreman, who performed together as Principal Dancers of the Martha Graham Dance Company.
For further information visit: buglisidance.org
Photo by Steven Pisano