Cartier Williams takes on 'Peter and the Wolf'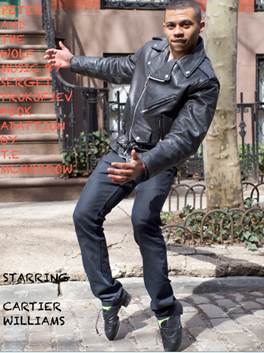 Hoofing legend and on-the-rise choreographer Cartier Williams will debut his newest work, Peter and the Wolf, An Urban Tale, on Friday and Saturday, November 21 and 22 at The Egg Center for Performing Arts in Albany, New York. Directed and choreographed by Williams, who will also star as the main character Peter, the production features music by Sergei Prolofiev with the script by T.E. McMorrow.
The reimagined story follows Peter as he tries to court Brenda Bird and fight off The Big Bad Wolf, Gangsta. Featuring a modern twist on other famous fairytale characters as well, including Mac Cool Cat and Doris Duck, the hip opera performance draws the audience into an updated version of the classic Russian children's story. Williams' choreography and his company of tap, ballet, hip-hop and modern dancers will bring the famous cast of characters into a 21st-century urban setting.
"The reason I wanted to bring to life Peter and the Wolf was because this generation is becoming less and less familiar with the classic tales," said Cartier Williams. "I decided to work on this project to preserve a classic and introduce a new audience to it with a contemporary feel."
The showing of Peter and the Wolf, An Urban Tale on Friday, November 21 will exclusively be performed for 450 at-risk children in the Albany area. With discounted tickets ($6 instead of $10), the debut promises to be a great experience that will provide children a contemporary fairytale they can relate to while demonstrating the power of dance in storytelling.
Recognized as one of the dance world's hottest young choreographers, Williams will also be performing his highly acclaimed touring show Rhythm Refix on Friday, November 21. Rhythm Refix, an autobiographical coming-of-age story, features a company of six hoofers and music ranging from jazz to hip-hop. Tickets are available at www.theegg.org.
For more information and to purchase tickets for Peter and the Wolf, An Urban Tale, visit www.theegg.org/event/peter-the-wolf-an-urban-tale.
Photo: Cartier Williams. Photo courtesy of Rubenstein Public Relations.