Celebrate National Dance Day 2018!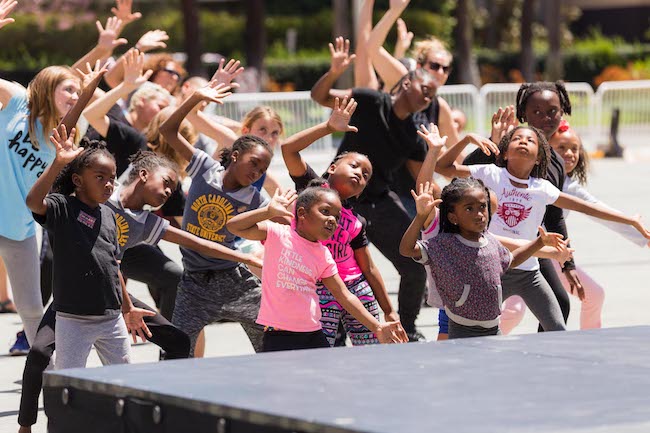 National Dance Day is this Saturday, July 28! How will you celebrate? Events are taking place across the U.S. and everyone is encouraged to join in! See event listings and learn the 2018 National Dance Day Routine online at The Dizzy Feet Foundation (DFF).
Presented by DFF, National Dance Day was co-founded by Nigel Lythgoe and Adam Shankman. This year, The Segerstrom Center for the Arts in Costa Mesa, California will join The John F. Kennedy Center for the Performing Arts in Washington, D.C. as the official sites of NDD celebrations. (See below for more information.)
Choreographed by award-winning choreographer Mandy Moore, the 2018 National Dance Day routine is available now on Dizzy Feet Foundation's YouTube channel and is set to Kylie Minogue's newest single "Dancing." The public is also encouraged to submit videos of themselves performing this year's routine and participate in the dance challenge, #DanceMadeMeDoIt. Encouraging all to celebrate dance in one's own way, this year's challenge is to create your own version of the National Dance Day Routine.
East Coast Celebration
In Washington, D.C., NDD is celebrated with free, family-friendly events open to all. Beginning at 2 p.m., it'll feature interactive dance lessons and performances in a wide variety of dance styles, as well as the official NDD routine for this year's event.
Special guest artists include Emmy Award–winning dancer, choreographer and director Comfort Fedoke (SYTYCD Season 4); Michael Mindlin, dance supervisor from the D.C. tour of Hamilton; Kazaxe; traditional Chinese dancers from Xuejuan Dance Ensemble; and choreographer and hip-hop dancer Teren Dickson.
Other participating artists include instructor Monica Stephenson from The Washington Ballet; Middle Eastern, modern and traditional folkloric dance group Sultanas Troupe; Velocity Dance; tap dancer and choreographer Cartier Williams; Word Dance Theater; students from CityDance DREAM and CityDance Conservatory; instructor Gina Safadi from Salsa with Silvia Dance Studio; and Soukous All Stars and the Bazurto All Stars.
Plus, there will be a demonstration by the Dance for Parkinson's Disease dancers, led by Lucy Bowen McCauley.
At 7:30 p.m., "Dancing Under the Stars" begins with Afro-Colombian beats and beginner-level Soukous and Champeta dance lessons, followed by two hours of dancing with The Soukous Bazurto All Stars.
West Coast Celebration
Segerstrom Center events will be from 1 to 8 p.m. on the new Julianne and George Argyros Plaza. The NDD routine will be led by So You Think You Can Dance (SYTYCD) All-Star Allison Holker with special guest emcee Adam Shankman.
Fully inclusive and interactive dance lessons in a wide variety of dance styles will be held throughout the day, along with opportunities to learn this year's official NDD routine.
The day's celebrations include performances and classes by DEA Youth Dance Program, School of Rock – The Musical, Culture Shock Los Angeles, Viver Brasil, Infinite Flow, Backhausdance and Relámpago del Cielo Grupo Folklórico, along with Segerstrom Center's Summer at the Center participants, Five Days of Broadway summer camp and American Ballet Theatre William J. Gillespie School.
Close out the day dancing under the stars during the Silent Disco dance party in the center of the Plaza.
Discount Dance Supply (DDS) will join in on the National Dance Day celebration with fun activities including a photo booth, DDS apparel and pointe shoe fittings, as well as on-site giveaways and raffles!
Photo: Revelations Celebration at Segerstrom Center for the Arts on April 14, 2018. Photo by Joesan Diche.
---