Children's book shares Raven Wilkinson story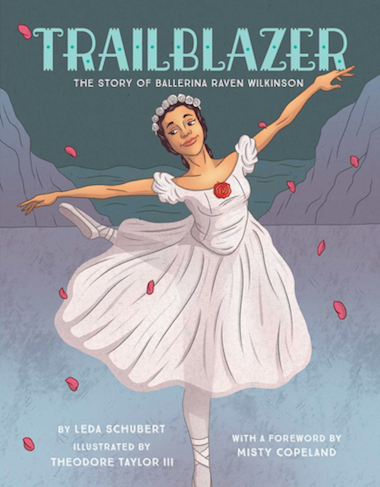 Children's book writer and illustrator Leda Schubert has published a beautiful picture book telling the little-known story of Raven Wilkinson, the first African American woman to dance for a major classical ballet company and an inspiration to Misty Copeland.
The book shares Wilkinson's entire dance journey, from when she was five years old seeing her first ballet performance, to her ninth birthday when her uncle gifted her ballet lessons, to her time as a student at Columbia University, to her audition and eventual acceptance by the Ballet Russe de Monte Carlo.
The envisioned audience of 6-9 year olds will learn how Wilkinson performed around the world with the Ballet Russe de Monte Carlo, even though the 1960s was a hard time to be African American.
Entitled Trailblazer: The Story of Ballerina Raven Wilkinson, the picture book opens with a foreword by Misty Copeland. The American Ballet Theatre Principal Dancer's words are set beside a snapshot of Wilkinson presenting her with flowers onstage after her ABT Swan Lake debut.
Copeland wrote, "Since learning about Raven, sharing her journey and those of the many black ballerinas who have paved the way has become part of my mission."
This picture book also spotlights collaborator Theodore Taylor III's unique, heavy line style of illustration, bringing a deeper level of fluidity and life to the work.
The new children's book is available through Indie Bound, Books a Million, Barnes & Noble and Amazon.
Book Cover: Raven Wilkinson in Les Sylphides, as illustrated by Leda Schubert.
---