China National Peking Opera Co returns to UK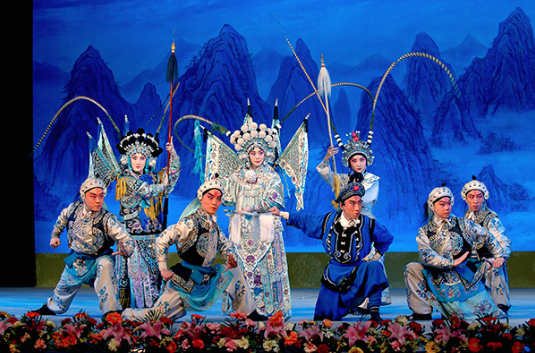 Ten years after its last visit to the U.K. in 2005, the China National Peking Opera Company will return to the U.K. this winter from November 13-22. The company will tour to both the Liverpool Echo Arena Auditorium (November 13–15) and London's Sadler's Wells (November 19– 22).
On its tour, the company will be performing two masterpieces: Warrior Women of Yang and the full-length European premiere of Farewell My Concubine. This is a rare opportunity to catch the fine art of Peking Opera on the U.K. stage from one of China's most pre-eminent performing companies with two of its legendary stars Yu Kuizhi and Li Shengsu.
Audiences will be invited into the intriguing art of Peking Opera and will take a cultural adventure into Chinese traditional artistic heritage from this world-class company. The magnificent costumes and the artful combination of dance, mime, music and theatre will provide a source of wonder for viewers of all ages.
The rarely seen Warrior Women of Yang is a story of grief, courage, patriotism and family loyalty. A cast of over 50 performers will mesmerize audiences with song, mime, exquisite costumes and painted faces whilst they simultaneously astound with their stage combat and acrobatics.
On the other hand, Farewell My Concubine is a renowned classical piece, a beautiful and harrowing story of political unrest, love, sacrifice and honour. It's hard not to be entranced by this immense love story and the consequences of lost battles and pride.
Something that makes Peking Opera so unique is that most of its performers have been practising their arts specifically for this opportunity most of their lives. Most of the artists have trained from a very tender age at opera school before being an apprentice and learning from the masters. Despite the spectacular costumes, face painting make-up and stunning stagecraft, Peking Opera represents the essence of Chinese tradition and values.
"With respect and honour, we are taking the opportunity of 2015 U.K. and China Cultural Exchange Year to present this fine, traditional art form of Peking Opera to the world to demonstrate that China is not just about what they can manufacture, but also about what they can perform," said Ming Ming Dong and Kevin Zhang, directors of Sinolink Productions.
"We sincerely hope the British audience will appreciate and be inspired by the masterpieces that the National Peking Opera Company are to bring to the U.K."
Photo © China National Peking Opera Company.