Choreographing Confidence Workshop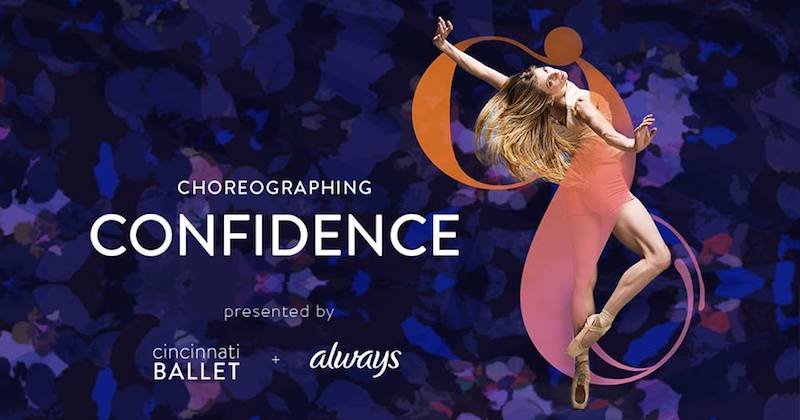 Cincinnati Ballet will soon host Choreographing Confidence, a dance and leadership workshop presented through the generous support of feminine hygiene brand Always. Set for Saturday, June 17 at 1 p.m., the workshop will take place at the Over-the-Rhine studios, located at 1555 Central Parkway.
More than 100 young women ages 10-17 will spend the afternoon learning, interacting with mentors, and engaging in activities with a focus on developing confidence and promoting self-esteem through dance.
"We're using dance as a means to empower young women," said Director of Education Julie Sunderland. "Dance can help establish a positive sense of self and a positive perception of one's body. At the same time, participants will have the opportunity to connect with other girls, with influential and inspiring women, and with their community."
Cincinnati Ballet Artistic Director & CEO Victoria Morgan said, "There is a very active conversation in our art form today about the dearth of female choreographers and gender inequality in ballet. I am proud to say that Cincinnati Ballet is consistently recognized as an influential ballet company that is leading by example and taking action to address the issue head-on. I am thrilled to be a part of this major initiative, highlighting and inspiring confidence in young women."
Morgan is one of only five female artistic directors leading U.S. ballet companies with an annual operating budget of $5 million or larger. Recognizing the importance of showing younger generations of dancers their potential and how to find their voice, she believes it starts with having the confidence to step forward.
"A dancer's career begins very early in life, often during a very formative and vulnerable period," Morgan explained. "That's why I believe it is so important for young dancers to see women exemplifying leadership as artistic directors and choreographers."
Choreographing Confidence participants will enjoy fun and meaningful activities with buildable lessons, reinforced through art, and learn about careers in dance beyond the stage. Further exemplifying female leadership, the workshop will be lead by women leaders from Cincinnati Ballet and the dance community who will share their individual stories. Breakout sessions include a writing activity with Stacy Sims, founder of The True Body Project, and a session with Heather Britt, choreographer and creator of Dancefix, who will help them express their story through creative moment and choreography. The afternoon ends in a celebratory and energetic Dancefix class designed specifically for teens, led by Britt.
For the past 30 years, Always has been committed to educating and empowering girls through its puberty and confidence education programs that reach 20 million girls around the world each year. Through the recent #LikeAGirl campaign, Always embarked on a mission to stop the drop in confidence that girls experience at puberty. Most recently, Always has been encouraging girls to keep playing sports and other athletics because studies show that girls gain confidence and important life skills through their participation in these activities. Cincinnati Ballet is partnering with Always to build confidence in girls, encouraging them to stay engaged in the activities they enjoy, such as dance.
Cincinnati Ballet's Education & Outreach program currently reaches over 52,000 people annually, through a variety of programming including school, church and community center demonstrations. Choreographing Confidence marks the first dance-based workshop led by Cincinnati Ballet with a specific focus on confidence building.
Registration and additional information is available at cballet.org/choreographing-confidence.
---