Dance Commission Preview Les Ballet Afrik and Ephrat Asherie Dance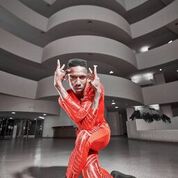 Works & Process, the performing arts series at the Guggenheim NYC, presents a Dance Commission Preview: Les Ballet Afrik and Ephrat Asherie Dance on Monday and Tuesday, January 13 and 14, 2020 at 7:30pm.
In 2020, Works & Process will commission and premiere two works, one each by Les Ballet Afrik and Ephrat Asherie Dance. At this Works & Process, excerpts are performed from both commissions and legendary dancer Archie Burnett will moderate the discussion with choreographers Ephrat Asherie and Omari Wiles.
Having received the honorary status of Legend after ten years of competing in the Vogue Ballroom scene and performing across the globe, choreographer Omari Wiles brings the ballroom to the Peter B. Lewis Theater at the Guggenheim with excerpts of New York is Burning (March 2020 premiere), performed by Les Ballet Afrik and guest artists.
In 1990, the documentary Paris is Burning was released to critical acclaim. The film chronicled New York City Drag Balls, Ball culture, and Voguing in the 1980s, capturing the elaborately structured Ball competitions and showcasing rival houses. Beyond the Ballroom, each house served as surrogate families for young Ball-walkers who faced rejection from their biological families for their gender expression and sexual orientation. The Voguing that took place at these Balls has entered mainstream culture in the years since, serving as a touch point for a multi-leveled exploration of a queer African-American and Latino subculture.
To celebrate the 30th anniversary and to pay homage to Paris is Burning, Omari Wiles, founding father of the House of Oricci, in March 29 and 30 will premiere New York is Burning, a Works & Process commission made in and for the Frank Lloyd Wright-designed theater at the Guggenheim. Performed by his company, Les Ballet Afrik, New York is Burning will bring the Ballroom to the Guggenheim and feature Wiles's AfrikFusion, a style that fuses traditional African dances and Afrobeat styles with House dance and Vogue.
Excerpts from Ephrat Asherie's UnderScored (fall 2020 premiere) are performed by EAD company members with guest artists from New York City's underground dance community. Blurring the lines between performance and living archive and beginning with the legendary parties at The Loft and the Paradise Garage, UnderScored is inspired by intergenerational club-life memories and explores the ever-changing physical and musical landscape of New York City's underground dance scene.
For more information visit worksandprocess.org
Image courtesy of Works & Progress