Dance Sundays are back at The Wallis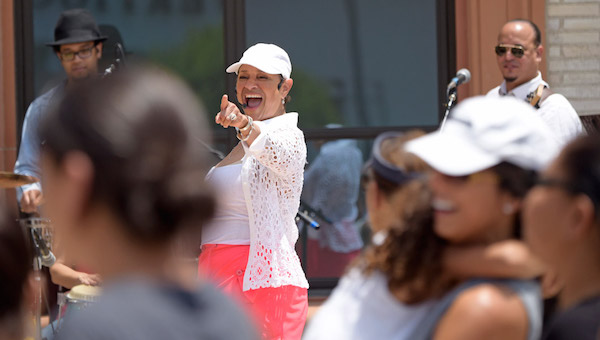 Three-time Emmy Award-winning choreographer Debbie Allen is back for the third season with her popular Dance Sundays at The Wallis Annenberg Center for the Performing Arts in Beverly Hills, CA.
Allen, who is the artistic director of Debbie Allen Dance Academy in Los Angeles, helps produce and host this exhilarating series of free outdoor dance events. It officially kicked off in February with a family-friendly salsa class taught by Gustavo Vargas. Other dance styles on the schedule are African, tap and hip-hop.
On April 8 from 12 to 2 p.m., Salsa Sunday returns with Allen and Lyrik Cruz teaching.
On May 13 from 12 to 2 p.m., instructor Titus Fotso will lead a West African dance class for all ages and levels, as accompanied by live drummers.
To see what the June, July and August events include, head to www.thewallis.org/dancesundays. All Dance Sundays take place at Promenade Terrace.
Photo: Allen leading a previous Dance Sunday. Photo courtesy of Dance @ The Wallis.
---