Dancers chosen for 2013 Prix de Lausanne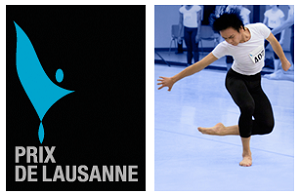 A total of 254 candidates representing 32 different nationalities applied for the Prix de Lausanne video selections that took place Oct. 25-28. Of the candidates, 81 young dancers representing 19 nationalities were selected.
Of the dancers chosen, 10 were citizens of the United States, including: William Dugan, Nicole Finken, Blake Kessler, Cameron McCune, Elenora Morris, Adrian Oldenburger, Deanna Pearson, Christian Pforr, Ethan Watts and Megan Wilcox.
Another four of those selected were studying at schools located in the United States, including: Miko Fogarty, Yumi Kanazawa, Ignacio Lopez and Joel Woellner.
The assessing panel for this qualifying round was made up of the Prix's artistic director and a group of dance experts, each of whom meets the criteria for membership in a Prix de Lausanne jury.
The next step for the 81 selectees will be the weeklong 41st Prix de Lausanne, which will take place in Switzerland from Jan. 27- Feb. 2, 2013.
Created in 1973, the Prix de Lausanne is an international competition for young dancers aged 15 to 18.
Selected dancers compete for a number of scholarships and prizes, including: three or four "Prix de Lausanne Scholarships" that pay tuition and living expenses for a student to attend to a prestigious dance school; three or four "Prix de Lausanne Apprentice Scholarships", reserved for candidates aged 17, that pay dancer's apprentice fees and living expenses while training with a major international company; the "Prix de Lausanne Best Swiss Candidate" awarded to the best Swiss finalist or a prize winner who lives in the country; and a "Contemporary Dance Prize" awarded to the finalist having shown the finest interpretation of a chosen contemporary variation.
For a complete list of candidates selected, visit the organization's website at www.prixdelausanne.org.