Dancers take to a Chicago River Cruise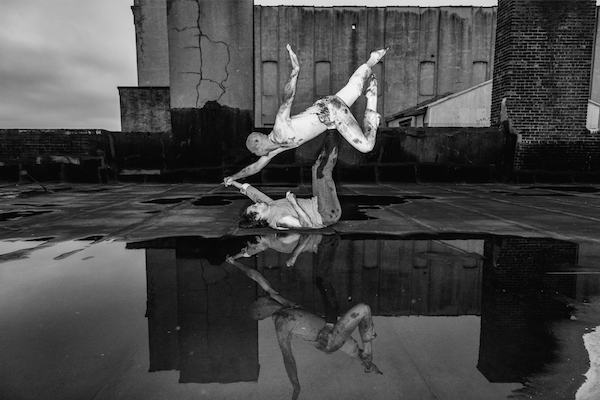 A Vessel for Carriage by Matty Davis and Ben Gould takes place on the deck of a Chicago River Cruise boat at dusk. This new project bridging performance, dance and installation is specifically designed for an intimate audience, and is tuned to the boat, the moving water and the distinctive bridges spanning the river artery that passes through the city.
The artists have created the work as a response to evolving senses of the body—injury, trauma, healing and growth. Both physically and sonically charged, the work radically explores control and response between the two performers, motored in part by the raw energy of Gould's Tourette Syndrome. Both audience and performers are awakened to real experiences of risk and trust in a setting that melds the built environment and the flow of the river over time.
Holly Shen, director of visual arts at the Brooklyn Academy of Music, declared these artists "visually stunning, with a physical and vocal language that is uncannily harmonic…"
A Vessel for Carriage is produced by performing arts curator Peter Taub, and is part of a larger project titled Carriage, which is the first collaboration between Matty Davis and Ben Gould. They are staging Carriage in specific sites in a number of cities, and Chicago is the only water-based setting. Carriage has previously been to Queenslab, a new space founded by artist Jim Hodges in NYC; Mendell Battery at the Marin Headlands in San Francisco; Creative Growth in Oakland; and Human Resources in Los Angeles.
Other upcoming performances of Carriage are June 9 in Detroit at Lightbox, September 21 back at Queenslab, NYC, and October 21 – 22 in Kansas City, MO at Open Spaces 2018, curated by Dan Cameron.
Tickets to the Fair Lady cruise boat show in Chicago, departing from Riverwalk at Michigan Avenue and Wacker Drive, can be purchased at www.brownpapertickets.com/event/3425752. The performance is approximately one hour long, with additional cruise time of up to two hours. A cash bar and free light appetizers are provided. Tickets are limited to 70 persons and are available for $20.
Photo: Matty Davis and Ben Gould. Photo by Devin Yalkin.