Debbie Reynolds Studio has new owners!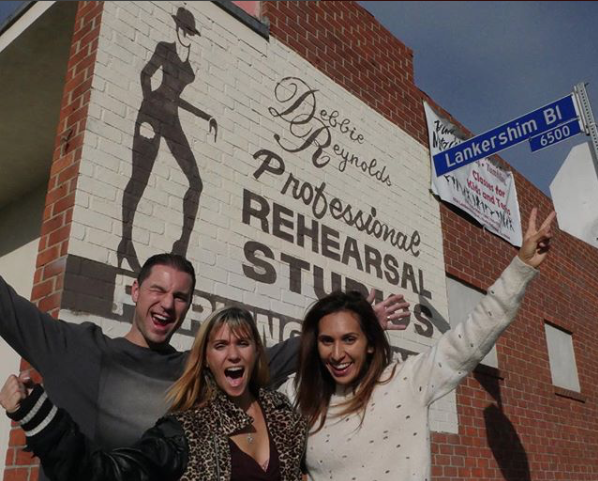 Debbie Reynolds Studio, established in 1979 in North Hollywood by the American actress and dancer herself, has now unveiled new leadership and a new name. Faculty member Teresa Espinosa, commercial dancer Marie Courchinoux and her husband Austin Wright are officially the new owners of "Debbie Reynolds Legacy Studios." Clear Talent Group dancer Shorty Rocc and Gabriel Augustus are also part of the freshly launched creative and business team.
According to a post on social media, the new team's message to the dance community is: "This blessing has been divinely placed into our hands, and we intend to keep the soul while updating aspects of the studio – for example, free Wi-Fi! Effective Monday, November 6, we are open for business as Debbie Reynolds Legacy Studios! We do not take this great honor lightly and are here to serve Debbie's vision and her legacy as our home."
Iconic businesswoman and award-winning performer Debbie Reynolds, who had her first big breakout role in Singin' In The Rain in 1952, launched her Debbie Reynolds Studio about 38 years ago. She was determined to create a comfortable space for dancers to rehearse and her studio offered a friendly and relaxed atmosphere while still providing simple luxuries that were not found at other studios – things like free parking, a lounge area with fresh coffee, dressing rooms, showers, six spacious studios with high ceilings and pianos in each room.
Today, the Hollywood studio has kept much of the same friendly atmosphere and luxuries. Over the decades, the studio has attracted various celebrities, from Lucille Ball to Michael Jackson. Stars like Madonna, Bette Midler, Cher, Usher and Mariah Carey have taken class there.
Over its history, Debbie Reynolds Studio has had top-notch instructors. Faculty members have taught globally and have choreographed for numerous artists including Beyoncé, Britney Spears, Janet Jackson, Missy Elliot, Justin Timberlake and more. The instructors boast diverse training backgrounds, ranging from Alvin Ailey to The Brooklyn Ballet to the streets.
In the past, the studio has been a popular rental facility too, with choreographers Travis Payne, Rob Marshall, Vincent Patterson, Brian Friedman and Shawnette Heard using the facilities.
Speaking about future rental possibilities, new Co-Owner Marie Courchinoux posted on her Instagram @maryssfromparis yesterday, "This is a big deal for dancers! The cheapest studio to rent in all L.A. is now available for rent again! The @drdancestudio #StudioB only $15/hr!!! You can't beat that! Dancers ain't got money!! We need more of these affordable studios to rent!!! We have more coming!!!"
Overall, it seems the general response to this exciting news has been positive. And the leadership team is so thankful, especially to the studio's founder. When the news first broke, Co-Owner and Instructor Teresa Espinosa, also the associate director and choreographer of Magic Mike Live at the Hard Rock Hotel & Casino in Las Vegas, exclaimed, "Dreams do come true!!! Thank you, Debbie!!!"
Co-Owner Austin Wright, also a partner in the business Home For Dancers in L.A. and a Anytime Fitness owner, shared, "Couldn't be more excited, humbled, and pumped that we made this happen… Thank you Debbie, we promise to keep your legacy alive!"
Keep up with Debbie Reynolds Legacy Studios at www.drdancestudio.com. Information on class schedules, faculty, rentals and the scholarship program is all there!