'Diana Vishneva: On the Edge' coming to UK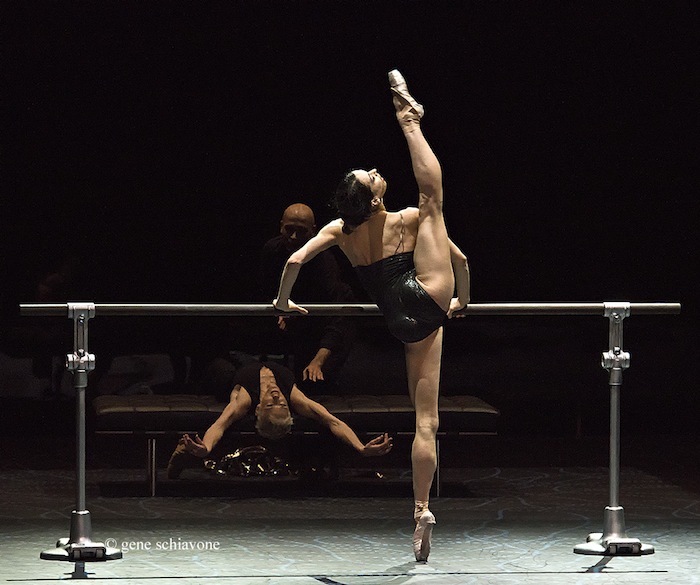 Ardani Artists will present the U.K. premiere of Diana Vishneva: On the Edge at the London Coliseum in mid-April 2015. A star of the Mariinsky Ballet and American Ballet Theatre, the program celebrates Vishneva's extraordinary technique and artistic versatility.
The evening consists of two works commissioned specifically for Vishneva – Jean-Christophe Maillot's intriguing pas de trois Switch and Carolyn Carlson's profound solo work Woman in a Room.
Woman in a Room was created for Vishneva by Carlson, director of the National Centre for Contemporary Choreography in Roubaix and the Atelier de Paris at La Cartoucherie de Vincennes in Paris. Inspired by the films of Andrei Tarkovsky, Woman in a Room is an evocative work that follows one woman's journey in life, filled with joys, bitterness and contemplation. The music is by Italian post-minimalist composer and cellist Giovanni Sollima with a finale piece by René Aubry.
Diana Vishneva was born in Leningrad (now St. Petersburg). She began studying dance at the age of six, and entered the Vaganova Academy of Russian Ballet at age eleven, graduating in 1995. In 1994, Vishneva won the Gold Medal and the Grand Prix at the International Young Ballet Dancers' Competition in Lausanne, a feat never repeated by any other competitor. In 1995, while still a student at the Academy of Russian Ballet, she became a trainee at the Mariinsky Theatre and performed the title role in Cinderella, as well as the roles of Kitri in Don Quixote and Masha in The Nutcracker. Ever since, she has performed lead roles in the international ballet repertoire, including works by Petipa, Fokine, Balanchine, Ashton, MacMillan, Béjart, Petit and Ratmansky.
In 2000, Vishneva made her debut at the Royal Opera House as Aurora in The Sleeping Beauty. Her international career as a guest soloist took off in 2001, with her performing with the Bayerisches Staatsballett in Manon and at the Teatro alla Scala in The Sleeping Beauty. In 2002, she made her debut at the Berliner Staatsballett and celebrated her Opéra de Paris debut in Don Quixote. Since 2005, she has been a Principal Dancer at American Ballet Theatre (ABT), dancing in Giselle, La Bayadère, Swan Lake, Romeo and Juliet, Don Quixote, The Sleeping Beauty, Manon, Sylvia and The Dream, among other works.
In 2010, Vishneva created the Diana Vishneva Foundation, a cultural and charitable organization that works in Russia, the USA and Japan. The Diana Vishneva: On the Edge project is produced in association with her foundation.
For more information on Diana Vishneva: On the Edge at the London Coliseum, set for three performances during April 14-18, 2015, visit www.eno.org.
Photo: Diana Vishneva in Diana Vishneva: On the Edge. Photo by Gene Schiavone.