DreamMaker National Talent Competition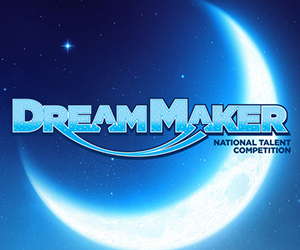 National Director
Brittney Bilgrien
DreamMaker is back this season for their "Livin the Dream" tour. The 2020 season will bring opportunities to dancers including talent scouts at every event, thousands of dollars in scholarships, student choreography recognition, the Dreamers Academy and more. DreamMaker judges are industry professionals, with extensive teaching and performance experience, focusing on bringing you well rounded and productive critiques. They'll be presenting an awards ceremony structure focused on recognizing the individual accomplishments of each dancer and routine.


By attending a 2020 DreamMaker regional city you have access to all your favorite Star Dance Alliance perks including Golden Tickets to the World Dance Championship, PowerPak invitations, World Dance Pageant scholarships, Wild Dance Intensive scholarships and more.


With three divisions of competition in all styles of dance, fashion modeling, and even a vocal category, there is a place for every performer on the DreamMaker stage. Join them in 2020 to make your dreams come true!
2020 Dates and Cities
Sparta, NJ January 31 – Feb 2
Little Rock, AR February 14 – 16
Rockford, IL February 14 – 15
Orlando, FL March 6 – 8
Virignia Beach, VA March 6 – 7
Buffalo, NY March 13 – 15
Raleigh, NC March 13 – 15
Murfreesboro, TN March 20 – 22
Woodbridge, VA March 27 – 29
Zionsville, IN March 27 – 29
Zanesville, OH April 3 – 5
Oklahoma City, OK April 3 – 5
Rapid City, SD April 17 – 19
New Castle, PA April 18 – 19
York, PA Apil 17 – 19
Colorado Springs, CO April 24 – 26
Troy, MI April 24 – 26
Evansville, IN May 1- 3
Green Bay, WI May 8 – 10
Temple Hills May 8 – 10
Hartford, CT May 15 – 17
Wilmington, OH May 22 – 24
Championship
Virginia Beach VA June 29 – July 3