Emerging Chicago Dance Artists Join Forces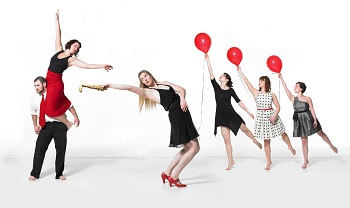 Three distinct artistic voices in Chicago's independent dance scene will team up for Receiver from March 8-10 at The Dance Center of Columbia College Chicago.
The evening will unfold in a continuous exploration of theatrical forms, providing the audience with an opportunity to absorb different approaches to the art of contemporary dance. The Space/Movement Project (a dancemaking collaborative), Rachel Damon's Synapse Arts and Erica Mott will each premiere a new work, all exploring theatricality in contemporary dance.
In Kiss Kiss Missiles, The Space/Movement Project uses social dance tradition to assemble surging directional changes, fleeting partnerships and mismatched pattering. In Without Pause Rachel Damon challenges her collaborators in real time through improvisation and invites the viewer to experience morphing body states as they unfold. Five Gaits, Four Walls, Fourteen Knots, by Erica Mott uses humor and surprise to explore polar opposites, and incorporates dance, object manipulation and sculptural costuming.
For more information visit http://www.colum.edu/Dance_Center/performances