English National Ballet's 2019 UK Tour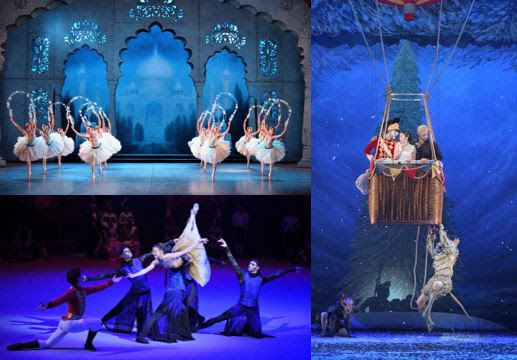 Continuing its commitment to UK touring and presenting world-class ballet to the widest possible audience, Autumn 2019 sees English National Ballet present three acclaimed ballets, Cinderella, Le Corsaire, and Nutcracker, on tour in it's 70th Anniversary Season. 17 October – 30 November 2019.
Following Christopher Wheeldon's colourful in-the-round restaging of Cinderella for performances at the Royal Albert Hall in June 2019, English National Ballet will bring the proscenium arch version of this whimsical ballet to audiences outside of London at Manchester's Palace Theatre (17-19 October) and Southampton's Mayflower Theatre (23-26 October). This inventive production combines magnificent sets and costumes, beautiful choreography, and Prokofiev's sublime score performed live by English National Ballet Philharmonic.
Having delighted audiences around the world with tours including Japan, Paris, and Spain, Le Corsaire returns to Milton Keynes Theatre (20-23 November), six years after its 2013 world premiere there. The only UK company to perform the complete work, English National Ballet's production was staged by Anna-Marie Holmes and features sets by Hollywood designer Bob Ringwood, and a sweeping score performed live by English National Ballet Philharmonic.
Continuing its Christmas tradition of presenting a Nutcracker production each year since 1950, English National Ballet's Nutcracker will tour to the Liverpool Empire (27-30 November). Tchaikovsky's beautiful score is performed live by English National Ballet Philharmonic. Since its premiere in 2010, this festive family favourite has been seen by over 660,000 people.
As part of its 70th Anniversary Season, English National Ballet will be celebrating and thanking its touring communities. English National Ballet will give away 70 tickets in each of the 4 cities it is touring to. Working with its partner venues, these tickets will be distributed to individuals who are making a positive impact in their community. To thank its audiences and fans, English National Ballet will also give a 'Golden Ticket' for a special English National Ballet experience to one audience member per performance throughout the tour. Opportunities will include behind-the-scenes tours, complimentary tickets, and meet and greets.
Alongside performances, English National Ballet will host a range of workshops and events throughout the tour, aimed to provide a gateway into the world of ballet and the productions the Company is touring this season. Activities include dance workshops for all ages, live drawing and behind-the-scenes talks. For more details, see www.ballet.org.uk/whats-on/events-and-workshops/

Following the tour, Nutcracker (11 December – 5 January) and Le Corsaire (8-14 January) will also be performed at the London Coliseum.
For further information visit www.ballet.org.uk
Image courtesy of ENB