English National Ballet's Dance for Parkinson's programme goes digital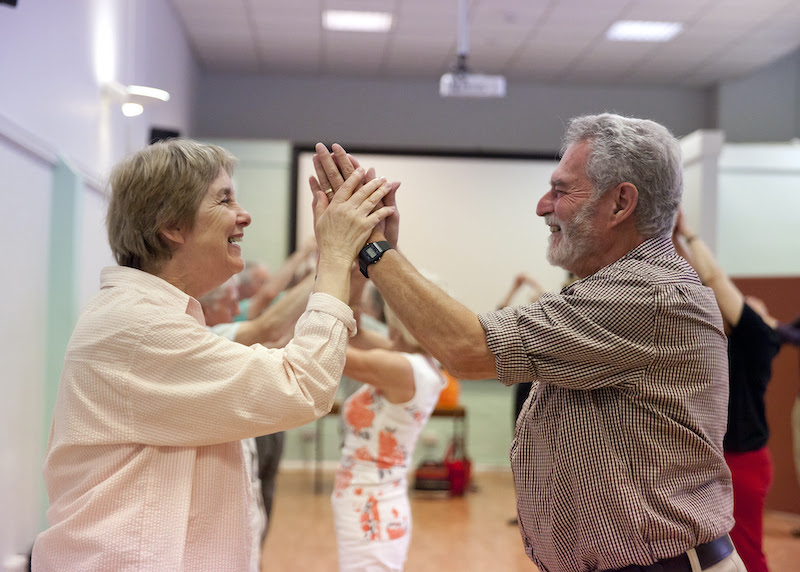 English National Ballet are moving the next term of the Company's flagship engagement programme Dance for Parkinson's online this Autumn in order to continue to provide classes during the Covid-19 pandemic.
Celebrating its 10th anniversary this year, the programme centres around high-quality dance lessons designed for people living with Parkinson's and is a great opportunity for those who take part to come together and experience the joy of dancing to live music, socialising and meeting new people as they become part of the ENB Parkinson's family.
Usually the classes are held in person at English National Ballet's home in Canning Town, East London and in association with five hubs and affiliated partners across the country, but all classes had to be paused earlier this year due to Covid-19.
Following the success of an online edition of a Dance for Parkinson's class during lockdown, ENB are moving the class community online with participants who would usually attend classes at English National Ballet's studios and at the Royal Albert Hall, joining together to take weekly classes from their homes this Autumn.
The term of eight classes begins this weekend (Saturday 10 October). Each pre-recorded class is led by ENB Associate Dance Artist Kate Hartley-Stevens and draws inspiration from English National Ballet's classical and contemporary repertoire. Each of these weekly sessions will also give the participants an opportunity to socialise on a group Zoom call, as they usually would following a class, and hear from members of English National Ballet about life behind the scenes of the dance company.
English National Ballet's Engagement Director, Fleur Derbyshire-Fox, said: "We are really looking forward to starting our first online term of Dance for Parkinson's this week. The classes are so full of joy, and although we are not able to physically come together in one space at the moment, we're delighted to be able to bring the classes to the participants in this way. At ENB we are looking at all the ways we can keep our outreach work going across our offerings. This is a very difficult year for everybody so if we can bring a bit of joy and light to people's lives through dance and the work that we do, then we'll continue to find a way."
Research has shown that dancing can enhance fluidity of movement, develop postural stability and flexibility of the spine amongst other benefits to people living with Parkinson's.
For further information on English National Ballet's Dance for Parkinson's programme visit: www.ballet.org.uk/project/dance-for-parkinsons/