Evening of contemporary dance in south L.A.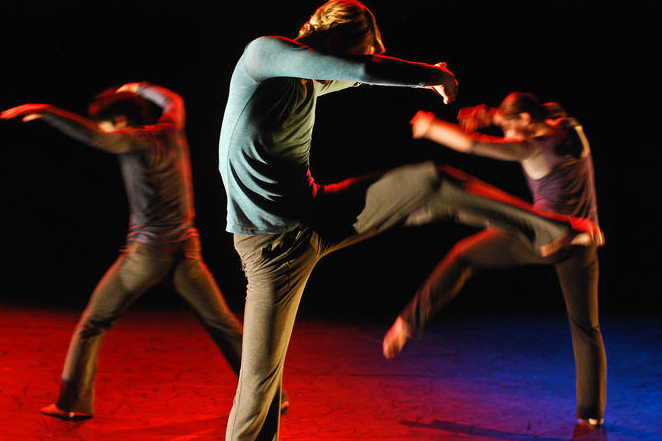 El Camino College's Center for the Arts will present "An Evening of Contemporary Concert Dance and New Music" for one night only on Friday, June 27 at 8 p.m. in the Marsee Auditorium. The program will feature dance performances by Pennington Dance Group and Liz Hoefner Adamis' new company Immediate Action Dance, as well as original music by The Yorgos Adamis Ensemble.
Los Angeles-based choreographer Liz Hoefner Adamis and the dancers of her newly formed Immediate Action Dance will present two new multi-media dance works, including Like the Arabesques of a Blind Mind and Gul Makai.
The work Like the Arabesques of a Blind Mind explores South African poet and apartheid activist Breyten Breytenbach's work The True Confessions of an Albino Terrorist, which is a personal account of his seven-year imprisonment in South Africa as a political prisoner. The choreography utilizes original set pieces by Bryan Bates, as well as video projection.
The second piece, Gul Makai, is also politically inspired. It explores the ongoing relationship between Pakistani woman and education rights activist Malala Yousafzai and her activist father Ziauddin Yousafzai. This work has been made possible by the Margaret Jenkins Dance Company CHIME Grant for 2013.
Pennington Dance Group will also present two works at the Marsee Auditorium –OUT OF, an energetic quintet danced in front of visual artist Susan Rankaitis' stunning floor-to-ceiling watercolor panels, and OVERLAY, which makes a canvas of the stage with themes of merger and division, separation and unity. Both works are choreographed by award-winning company director John Pennington.
In addition, the Yorgos Adamis Ensemble, led by composer, improviser, multi-instrumentalist and vocalist Yorgos Adamis, will present a new experimental music work that investigates the use of extended vocal and instrumental techniques. It features unusual instrumental choices and the combination of electroacoustic and improvised music.
For more information on this evening of contemporary dance and new music, visit www.elcamino.edu. Tickets are $15 and are now available. The Marsee Auditorium is located on the El Camino College campus, located at 16007 Crenshaw Blvd. in Torrance, California, which is just south of Los Angeles.
Photo: Pennington Dance Group. Photo by Denise Leitner.