'Fall Further II' at Ailey Citigroup Theater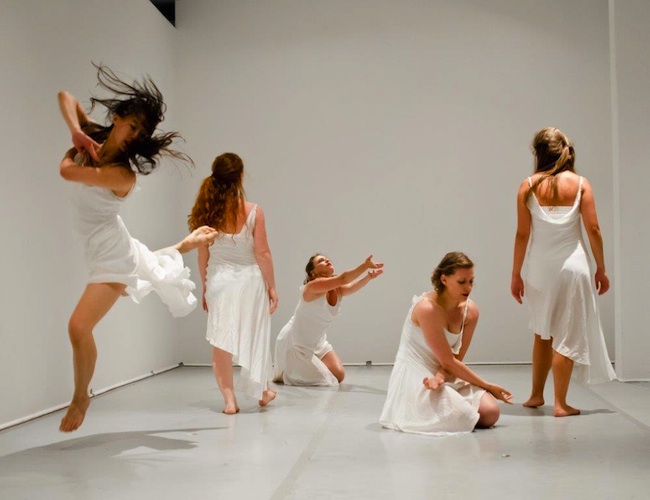 Building upon the success of last year's inaugural Fall Further performance, Pentacle will present its Gallery Artists in Fall Further II on Tuesday, September 24 at the Ailey Citigroup Theater. Scheduled to participate are BARKIN/SELISSEN PROJECT, ClancyWorks Dance Company, Jessica Gaynor Dance, LCTC – Lorraine Chapman The Company, Ramya Ramnarayan and Prashant Shah.
The BARKIN/SELISSEN PROJECT, led by and made up of Kyla Barkin and Aaron Selissen, is a small dance outfit that is known for its articulate, passionate and precise movers. It uses both athletic and subtle, qualitative movement to transform the seed of an idea into an evocative and absorptive performance. Works often "address issues concerning technological innovation, liveness and dimensionality as a graceful comment on the ever-increasing role of technology in dance performance," wrote Dance Enthusiast.
ClancyWorks Dance Company is another ensemble of contemporary dance artists. Founded in 2001 and based in Washington D.C., the company is known for Artistic Director Adrienne Clancy's dynamic choreography that features vigorous partnering work and reflects her powerful aesthetic and social vision, to form trust within a framework of diversity. The Washington Post has described Clancy as a "wizard of invention," and her choreography as "a tour de force of unpredictable partnering." Jennifer Noyer of the Albuquerque Journal said, "Clancy's choreography builds emotional and intellectual content with abstract, yet probing psychological use of bodies in contact with each other. Her use of minimal but dramatic props is exceptional."
Brooklyn-based Jessica Gaynor Dance is led by choreographer Jessica Gaynor and is becoming increasingly well known for her extreme physicality juxtaposed in speed and stillness. Eye on the Arts wrote that "Gaynor skillfully plays with structure," later adding "her pieces are intriguing and vibrant." Gaynor and her longtime collaborator Devin Maxwell have recently been awarded a 2013 New Music USA Commission and a 2013 Mertz Gilmore Late Stage Production Stipend.
Next, Lorraine Chapman The Company is an ensemble led by independent choreographer Lorraine Chapman, who was a dancer with Eliot Feld Ballets/NY and Ballet British Columbia. She has created works for the Northwest New Works Festival in Seattle, The Bessie Schoberg Residency at The Yard, the Massachusetts Cultural Council's Artist Grant for Choreography and a NEFA Regional Dance Development Initiative. This fall, Chapman is creating an evening-length dance instillation honoring the images and life of photographer Francesca Woodman. Karen Campbell of the Boston Herald said, "Lorraine Chapman's work combines dynamic, sharp-edged movement and compelling theatricality… satisfying on a visceral level [and] a cerebral level as well."
One of the most outstanding male dancers in his genre today, Prashant Shah is a senior disciple of Padma Bhushan Smt. Kumudini Lakhia. Prashant's virtuosity in Kathak technique enables him to perform a vast repertoire with masculine grace without any flowery affectations. His contribution of historic and cultural dance to the concert scene is of vast importance. The Star Ledger of Newark wrote, "Shah's performance displayed wonderful contrasts, with moments of sharp clarity he seemed caught up in a whirlwind, looking down upon the audience from a cloud."
Another one of the most significant cultural dancers in the world is Ramya Ramnarayan. Hailed "a virtuoso and a complex stylist" by Alastair Macaulay of The New York Times, her objective is the promotion and propagation of the Indian Classical Dance form Bharatanatyam. She was recently featured in the NJPAC dance festival "Jersey Moves", at Jacob's Pillow Dance Festival and in the Museum of Art and Design's Dance Under the Influence Series. Known for her seamless blending of traditional Indian dance and contemporary sensibility, Ramnarayan "moves between characterful storytelling and nonrepresentational dance… with remarkable fluency."
With this diverse pool of dancers and artistic talent, Fall Further II is sure to be a vivid, exciting night that brilliantly showcases the wide spectrum of movement.
On last year's performance, reviewer Darrell Wood wrote, "There were some real treats shown… the showcase portrayed a wide array of talents, and offered an exciting evening of dance." For more information on Fall Further II, visit http://pentacle.org.
Photo: Lorraine Chapman The Company (LCTC) in performance. Photo by Liza Voll.